President's India visit to further consolidate ties between two countries; Govt endorses Prez state visit to India; declares public holiday on Monday and Friday
April 16, 2017 | 7:50 pm&nbsp&nbsp&nbsp&nbsp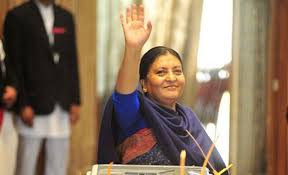 Kathmandu/ Apr. 16: The five-day state visit by President Bidya Devi Bhandari to India starting on Monday is expected to further strengthen the age-old mutual relations between the two countries.
President Bhandari, who assumed the post of the Head-of-the-State following the promulgation of the new constitution in Nepal, is visiting India at the official invitation of her Indian counterpart Pranab Mukherjee. During the visit, President Bhandari is scheduled to meet with President Mukherjee, Vice-president Hamid Ansari and Prime Minister Narendra Modi, according to the Ministry of Foreign Affairs. She will also be holding separate meetings with other senior Indian leaders and officials.
Earlier, at the invitation of President Bhandari, the Indian President had visited Nepal from November 12 to 15, 2016. President Mukherjee was the first Indian President to visit Nepal after it turned a republic. Prior to that, Indian President KR Narayanan had visited Nepal in May 1988. Likewise, the first President of the republic of Nepal Dr Ram Baran Yadav had paid a state visit to India from February 15, 2010.
In the context of the visit, Dr Dinesh Bhattarai, foreign affairs advisor to former Prime Minister Sushil Koriala, expressed the confidence that the visit that was finalized soon after the visit to Nepal by the Indian President would be a cordial one. "It is however the responsibility of the state to make this visit successful as it is a matter of pride for the nation," he said.
Likewise, CPN (UML) lawmaker and foreign affairs expert Dr Rajan Bhattarai expressed confidence that the visit will further strengthen the bilateral ties. He added that such visits help normalize the misunderstandings between the two countries.
Similarly, President Bhandari's media expert Madhav Sharma said that the President's first foreign visit will help strengthen bilateral ties prevalent at the peoples' to peoples' level.
Likewise, CPN (Maoist Centre) spokesperson Pampha Bhusal also said that the visit will further strengthen bilateral relations. The visit by the Head of State should be for enhancing goodwill and harmony between the two countries, she added.
Govt endorses Prez state visit to India; declares public holiday on Monday and Friday
The government has endorsed the upcoming state visit of President Bidhya Devi Bhandari to India.
The meeting of the council of Ministers on Sunday has decided to approve the five-day state visit of President Bhandari. President Bhandari is embarking on her maiden state visit to any foreign in the capacity of the Head of the State of Nepal.
Likewise, the government has declared public holiday on Monday and Friday citing the reason of the state visit of the President to India.
Giving the information about the cabinet decision, Law Minister Ajay Shankar Nayak said," The government has announced the public holiday on Monday and Friday- the departure day and arrival day of President Bidhya Devi Bhandari for her state visit to India." RSS