'Reliable security arrangement for election': DPM Nidhi
April 16, 2017 | 7:48 pm&nbsp&nbsp&nbsp&nbsp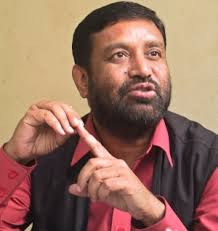 Kathmandu / Apr. 16: Minister for Home Affairs Bimalendra Nidhi and Chief Election Commissioner Dr Ayodhee Prasad Yadav, today briefed the parliamentary committee about the preparations and progress being made regarding the May 14 local-level election.
Speaking in the meeting of the State Affairs Committee under the Legislature-Parliament, Minister Nidhi said that the government was making reliable environment required for election. He added that 231,000 security personnel will be mobilized for the election security.
According to Nidhi, government was classifying areas into normal, sensitive and highly sensitive zones in view of election security.
Minister Nidhi asked CPN (UML)'s support to pass the newly forwarded constitution amendment proposal and requested Madhesi Front to be flexible on their demands. He further stressed for making election-friendly environment by forging consensus among the political parties.
Speaking at the same meeting, chief election commissioner Dr Ayodhee Prasad Yadav said the ballot paper required for 62 districts have already been printed so far. He added that the commission was intensifying its preparations as per the set plan.
He also shared that the Nepal Army will be assigned the responsibility of transporting ballot papers while Armed Police Force will transport other materials required for the elections.
Speaking in the meeting, lawmakers drew the attention of the commission over the incidents of breaching of election code of conduct by various parties and leaders. They also stressed on making the election education campaign effective.
In the meeting, home secretary, chiefs of Nepal Police, Armed Police Force and National Investigation Department were present. RSS