PM Dahal and UML Chair Oli discuss latest political scenario
May 6, 2017 | 9:58 pm&nbsp&nbsp&nbsp&nbsp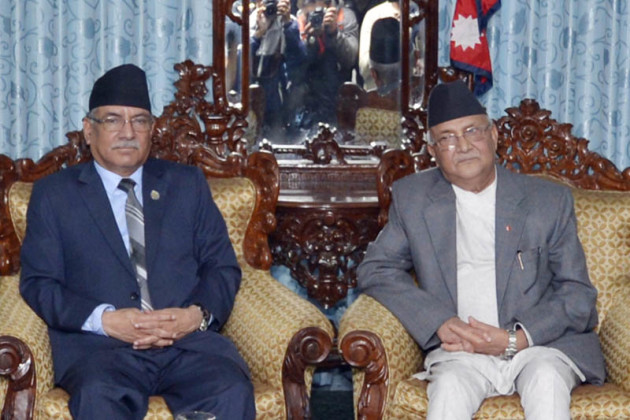 Kathmandu / May 6: Prime Minister Pushpa Kamal Dahal and Chair of the main opposition CPN-UML, KP Sharma Oli, held a meeting at the former's offical residence in Baluwatar on Saturday to discuss the country's latest political developments.
During the meeting, the duo talked about the latest political development following the Supreme Court's interim order on Friday in relation to the impeachment motion against SC Chief Justice Sushila Karki.
The meeting aimed at dealing with the situation on the basis of an all-side understanding, according to Prime Minister's Press Advisor Govinda Acharya.
The Prime minister told the main opposition leader that he would take an 'appropriate' step at this moment on the basis of the understanding among all.
Talking to the media after the meeting, CPN-UML General Secretary Ishwar Pokhrel said party Chair Oli urged the prime minister to withdraw the impeachment motion on the occasion. RSS