EC concerned over activities against code of conduct; Maoist Centre unveils election commitment paper for KMC
May 6, 2017 | 9:59 pm&nbsp&nbsp&nbsp&nbsp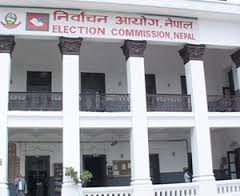 Kathmandu / May 6: The Election Commission (EC) has asked joint Mayoral candidate of Federal Socialist Forum-Nepal and Naya Shakti Party-Nepal at Mahalaxmi Municipality, Lalitpur, Janak Thapa, to furnish clarification within 24 hours for organising motorcycle rally against EC-enforced election code of conduct.
A press release issued by EC Spokesperson, Surya Prasad Sharma, stated that Chief Election Commissioner Dr Ayodhi Prasad Yadav directed stopping the rally immediately after CEC Yadav noticed motorcycle rally in course of on-site monitoring.
According to the EC, candidate Thapa had organised motorcycle rally at Satdobato-Krishna Temple area at 12:30 pm today against the election code of conduct for election publicity.
Meanwhile, the EC said that its serious attention has been drawn towards polling survey being conducted by setopati.com – an online media – with question 'who you vote and why in the Kathmndu Metropolis?' against election code of conduct.
The EC directed the media not to make public such type of information and message from today onwards as it breached voters' right to vote in a confidential manner.
Maoist Centre unveils election commitment paper for KMC
Meanwhile, the mayoral candidate of CPN Maoist Centre for Kathmandu Metropolitan City, Sarbottam Das Dangol has unveiled his commitment paper, organising a news conference on Saturday.
In his 39-point commitment paper, Dangol pledged to establish a systematic public transportation and operate mass-transport vehicles including electronic trolley buses in the Capital.
Stating that he took initiatives to allocate Rs 100 million to operate Sajha Bus in the City as a member of the partisan mechanism of the Kathmandu Metropolitan City, Dangol promised to give continuity to this move and manage micro vehicles.
He has also promised to end unmanaged urbanisation and implement land use policy.
Dangol has said that his party has the plan to make Kathmandu Metropolitan City a smart city and added that a high-tech library, free Wi-Fi and life-time allowance to the senior citizens and the poor are other priorities.
On the occasion, deputy mayor candidate Sushila Poudel said that a dream for the New Nepal would be translated into reality, adding that people's confidence towards her team and her party has gone up after the end of load-shedding during the Maoist-led government.
She said that the local level polls carry special importance for taking the Singhadurbar-centric rights to the grassroots level. RSS