Nepali Congress leader Marshall Julum Shakya dies at 7; PM pays tribute to NC leader Shakya
May 6, 2017 | 9:58 pm&nbsp&nbsp&nbsp&nbsp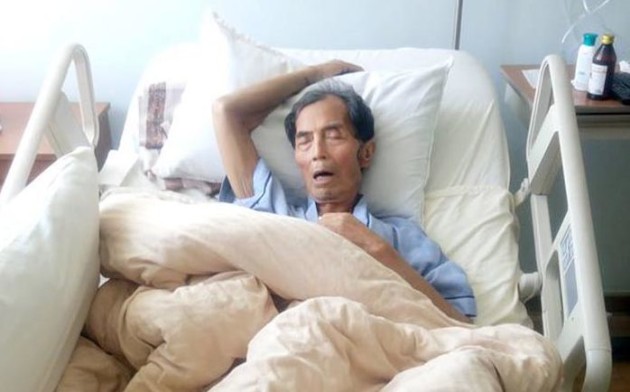 Kathmandu / May 6: Former minister and Nepali Congress leader Marshall Julum Shakya, who suffered from brain haemorrhage and was admitted to the Tokha-based Grande International Hospital, passed away on Saturday morning. He was 77.
Leader Shakya succumbed to aspiration pneumonia and septic shock at the final stage at around 9:00 am today, according to the hospital.
Earlier, leader Shakya was admitted to the Norvic International Hospital at Thapathali on March 3. Later, he was shifted to the Dhapas-based hospital.
Shakya, who served as a powerful minister in the Krishna Prasad Bhattarai-led interim government in 1990/1991, suffered from from heart and kidney ailments also.
Borin in Kathmandu in October 1940, Shakya was one of the founding members of Nepal Student Union, the sister wing of Nepali Congress. He was involvement in democratic movements in the country and spent more than 14 years in jail and remained underground for two years during the Panchayat regime.
He was arrested for protesting the the coup of the people-elected BP Koirala-led government in 1960 by King Mahendra.
The party recalled Shakya's contribution in the delivery of Nepal's Constitution 1990 after the end of party-less Panchayat system and the restoration of multiparty democracy.
PM pays tribute to NC leader Shakya
Meanwhile, the Prime Minister Pushpa Kamal Dahal Saturday visited the Nepali Congress central party office, Sanepa, to pay his final tribute to the mortal body of NC senior leader Marshal Julum Shakya who passed away at the Grande International Hospital, Kathmandu early today. He was 77.
At the unhappy moment, the Prime Minister said the demise of leader Shakya, a true democratic fighter, had caused a great loss to the Nepali politics.
Recalling his significant contributions to the restoration of democracy in the country, he said Shakya was the personality who for the first time had come to the street against monarchy after the then King Mahendra dissolved the elected parliament and took over the State power on December 15, 1960.
He expressed his hope that the politics of dedication practiced by Shakya will remain as an example for all political leaders in the country. RSS