Gachchhadar-led Nepal Democratic Forum joins govt.
May 8, 2017 | 10:16 pm&nbsp&nbsp&nbsp&nbsp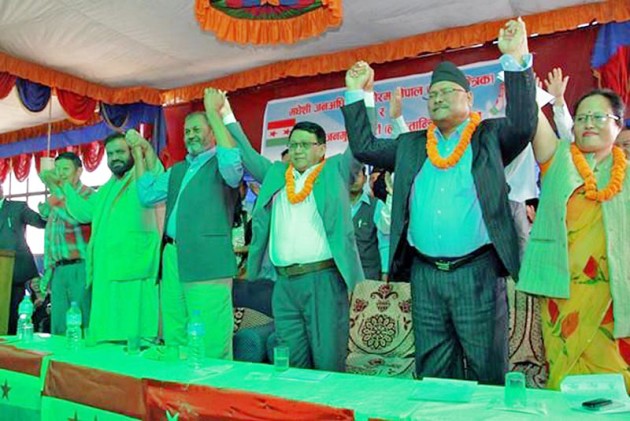 Kathmandu / May 8: Prime Minister Pushpa Kamal Dahal has expanded his Cabinet, inducting three ministers from the Bijaya Kumar Gachhadar-led
Nepal Democratic Forum in his Cabinet on Monday.
President Bidya Devi Bhandari administered the oath of office and secrecy to Deputy Prime Minister Bijaya Kumar Gachhadar
who will head the Ministry of Federal Affairs and Local Development, Minister for Culture, Tourism and Civil Aviation
Jitendra Dev and Minister for Land Reform and Management Gopal Dahit amid a function organised at Sheetal Niwas this evening.
Vice-President Nanda Bahadur Pun, Prime Minister Pushpa Kamal Dahal, Speaker Onsari Gharti and other dignitaries were present on the ocassion.
Earlier, the party had finalized the name of the members to represent the party in the government.Previously, Kamal Thapa-
led Rastriya Prajatantra Party (RPP) was heading the three ministries.
It is Gachhadar's 12th stint in the government and fourth time as a Deputy Prime Minister.
Gachhadar had served as the Deputy Prime Minister in the cabinets led by KP Sharma Oli, Baburam Bhattarai and Madhav Kumar Nepal in the past. Also, he was a minister in the preceding governments with posh portfolios since early 1990s.
Jitendra Dev has been appointed minister for the first time, while Dahit had served as an assistant minister in the
Lokendra Bahadur Chand-led interim government appointed by King Gyanendra in 2002.
Federal Affairs and Local Development; Culture, Tourism and Civil Aviation, and Land Reform and Management ministries were lying vacant after the Rastriya Prajatantra Party pulled out of the government on May 1, protesting the ruling parties Nepali Congress and CPN Maoist Centre's move to impeach the Chief Justice.