Election date should not be altered: CEC Yadav; Silence period to come into effect from Thursday
May 10, 2017 | 10:09 pm&nbsp&nbsp&nbsp&nbsp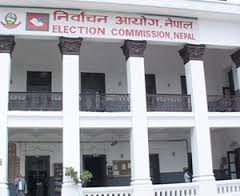 Kathmandu / May 10: Chief Election Commissioner Dr. Ayodhee Prasad Yadav has said the second phase local election date fixed for June 14 should not be changed.
Dr. Yadav's comment regarding the election date comes at a time when there are talks of preponing the second phase local election before May 29, the constitutionally predetermined date for the government to announce the annual budget and its policy and programme.
The Chief Election Commissioner said this speaking in the face-to-face programme organized by Reporters Club Nepal here today.
He made it clear that the Election Commission was not going to intervene in the change of government or stop the government from bringing the budget. "The government can bring the budget, but it must be in accordance with the election code of conduct," he stressed.
CEC Yadav reiterated that election is a must for freeing the country of the transition, and nobody should desist from the main task of having the election organized on the stipulated date.
Silence period to come into effect from Thursday
The Election Commission said that the silence period for the local level elections slated for May 14 would come into effect after 12 am on Thursday.
According to a statement issued by Assistant Secretary of the EC Surya Prasad Sharma on Wednesday, the political parties are prohibited from electioneering, disseminating political messages, organising meetings and rallies, chanting slogans and campaigning by any other means after the commencement of the silence period until the end of elections. The period would be effective for 48 hours prior to the elections day. RSS