Vice President stresses on broader development of Lumbini
May 10, 2017 | 10:05 pm&nbsp&nbsp&nbsp&nbsp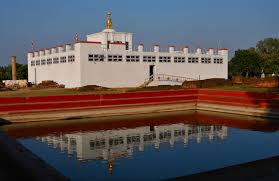 Butwal / May 10: Vice President Nanda Bahadur Pun has observed that consciousness for peace has evolved in Nepal due to the Buddhist philosophy and its advancement.
"That the Buddhist philosophy evolved and flowered in Nepal is a matter of pride for Nepal and the Nepalis," the Vice President said while addressing to the main programme organized in Lumbini, the birthplace of Gautam Buddha, today to mark the 2561st Buddha Jayanti.
He said the life of mankind would become meaningful if the Buddha's principle of panchasheela or the five fundamental principles of good conduct that the Buddha taught could be translated into action.
Referring to the Buddha as a great philosopher and to his teaching as being useful and more relevant in human life and conduct, the Vice President said the significance of the Buddhist thought has increased even more today.
He urged the Lumbini Development Trust to pursue additional action plans for the development of Lumbini. It is necessary to advancing the developmental works also linking them to Tilaurakot, Devdaha and Ramgram, other places associated with Lumbini, he added.
"It is necessary to give an integrated identity for ourselves understanding and making others understand the Buddha's philosophy. It is also essential to tear apart the misinformation related to the Buddha's birth place that has been spread," Vice President declared.
Urging the government to pay attention for the broader development of Lumbini, he said Lumbini could be developed if an environment could be created in which the tourists' stay at the place could be extended at least by 10 days.
At the programme, lawmaker Kamaleshwar Puri Goswami spoke of the need of special publicity of Buddhism. He urged all to follow the Buddha's non-violence principle.
Secretary at the Ministry of Culture, Tourism and Civil Aviation, Shanker Prasad Adhikari said that a master plan was being formulated for the development of Lumbini and other related places like Tilaurakot, Ramgram and Devdaha.
"There is a plan to bring forth a master plan on the Buddhist Circuit and greater Lumbini," the Secretary said, adding that the government has brought the concept of the Buddhist Circuit aimed at prolonging the stay of visitors to Lumbini and the Lumbini development project as a project of national pride.
LDT Treasurer Surendra Muni Shakya demanded that the State should develop Lumbini, where the Buddha was born and Budhism originated, as a place of special significance, as Nepal is known as the country of Mt. Everest and the Buddha.
On the occasion, Vice President Pun honoured Meena Pun, an employee of the Lumbini Development Trust who served for 25 years, with the Long Service Award and 10 others employees as well.
Vice President of LDT, Bhikkhu Nigrodh presided over the programme. A cultural programme with dances depicting the Buddha life was also presented on the occasion.
The Vice President Pun paid homage at the Mayadevi Temple at Lumbini and also acquired information about it. RSS