NRA asks housing grant recipients to avail themselves of 2nd tranche aid by mid-June
May 11, 2017 | 9:55 pm&nbsp&nbsp&nbsp&nbsp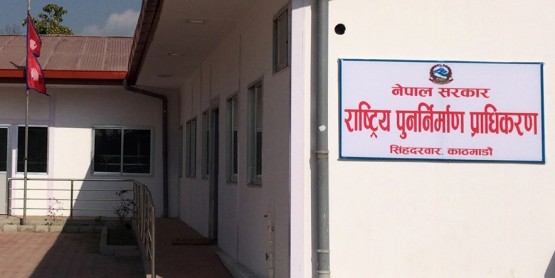 Kathmandu / May 11: National Reconstruction Authority (NRA) has requested the quake-affected families who have availed themselves of the first installment of the private housing aid to initiate process to acquire the second tranche of the aid by mid-June.
The NRA said that second installment of the housing grant has already been distributed to the affected districts.
The NRA made such request after the victims who had applied for second tranche did not show up for receiving the fund as expected, said NRA spokesperson Yamlal Bhusal.
Bhusal said that Rs 150 million is ready for distribution to the eligible quake victims who have already obtained first installment of the earthquake relief fund.
As many as 452,490 households from fourteen worst-affected districts had availed themselves of the first tranche of aid by January. The victims eligible for the second installment, however, have not initiated process to obtain the aid in proportion to the recipients of the first installment, NRA said.
In the immediate aftermath of the quakes, the government had decided to provide Rs200,000 per household as private housing rebuilding aid, which was later increased to Rs 300,000 in three installments—Rs 50,000, Rs 150,000 and Rs 100,000.