President Bhandari arrives in Bangkok
May 12, 2017 | 10:11 pm&nbsp&nbsp&nbsp&nbsp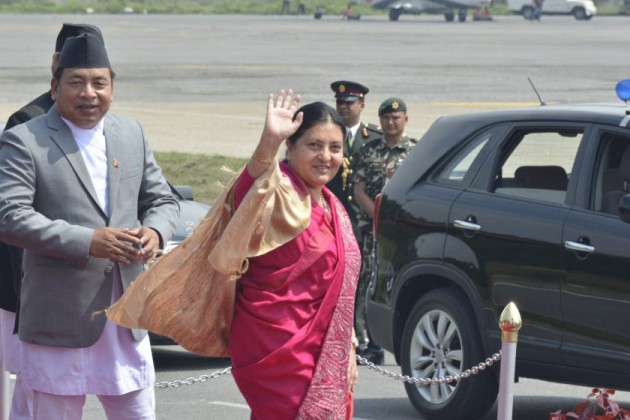 Bangkok / May 12: President Bidya Devi Bhandari, who is on an official visit to Sri Lanka from May 13 to 16 , landed at the Suvarnabhumi Airport in Bangkok on her way on Friday, where she was received by Nepali Ambassador to Thailand Khagnath Adhikari.
President Bhandari was welcomed at the airport by Thai King's Privy Councilor Charunthada Karnasuta, Minister of Digital Economy and Society Pichet Durongkaveroj and Foreign Ministry's senior officials.
From the Airport, President Bhandari went to Hotel Novotel, where she will stay for a day before leaving to Colombo tomorrow.
In Thailand, the President is scheduled to pay tribute to the body of late King Bhumibol Adulyadej, who passed away on October 13, 2016 and his mortal remains have been placed at the Grand Palace in Bangkok.
The last rites of the Thai monarch would be performed on coming October 26 in a garden at the Palace as per the Buddhist tradition. The Heads of the State and Government of various countries have been coming to Bangkok to pay tributes to the late monarch by offering garlands to the mortal remains.
President Bhandari will also attend a reception hosted by the Nepali Embassy in her honour this evening.
According to a May 11 press release by the MoFA, the President is scheduled to address the closing ceremony of the United Nations Vesak Conference in Kandy, Sri Lanka, as the Chief Guest on 14 May 2017, followed by paying homage to Sacred Tooth Relic of the Buddha in Kandy.
She will also hold a meeting with her Sri Lankan counterpart Maithripala Sirisena, who had invited her to his country and return Nepal on May 16, according to the release.
The President's entourage includes Minister for General Administration Keshab Kumar Budhathoki, Foreign Secretary Shanker Das Bairagi, foreign affairs expert at the President's Office, Madan Kumar Bhattarai and secretary Bhupendra Prasad Poudel, joint-secretary at the Ministry of Foreign Affairs (South-east Asia Division) Bhrigu Dhungana, Chief of Protocol Deepak Adhikari and protocol officer Kul Bahadur Magar among the high officials and journalists, according to the Ministry of Foreign Affairs.RSS