Gurung honoured with Gangadevi Chaudhari award
May 14, 2017 | 8:24 am&nbsp&nbsp&nbsp&nbsp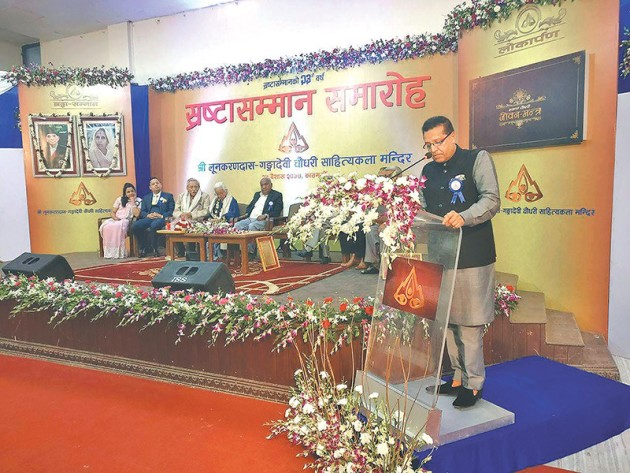 Kathmandu / May 13: The Lunkarandas-Gangadevi Chaudhari Sahitya Kala Mandir organised an award distribution ceremony on the occasion of the foundation's 23rd anniversary on Wednesday.
The function felicitated a host of poets, artists and authors active in the Nepali literati—Toya Gurung (Gangadevi Chaudhari Smriti Samman), Kaliprasad Rijal (Saraswoti Samman), Hari Kanta Lal Da (Itihas Siromani Baburam Acharya), Deep Shrestha (Narayan Gopal Sangeet Samman), Uttam Nepali (Araniko Lalitkala Samman),
Mahendra Malangiya (Bal Krishna Sama Ranga Samman, and Mira Rai (Nepal Nava Pratibha Purashkar).
The Gangadevi Chaudhari Smriti Samman holds a cash purse of Rs 101,000 while other awards are of Rs 51,000 each.
At the event, Basanta Chaudhari, chairperson of the foundation, said that art is the measure by which a society is gauged by. "We should all work towards honouring the arts and the artists in order to preserve our unique cultural heritages," Chaudhari said. Source: The Kathmandu Post