'When writers write to please, it always backfires'
May 14, 2017 | 8:21 am&nbsp&nbsp&nbsp&nbsp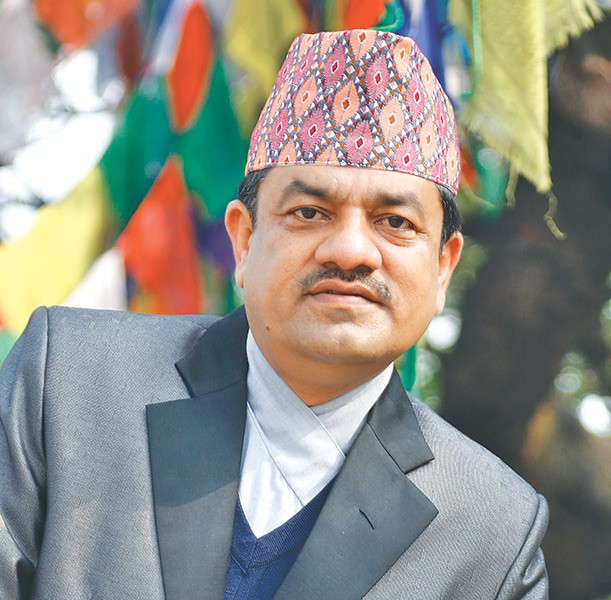 Kathmandu : Journalist by day and poet by night, Nabaraj Lamsal recently launched his new book Dhara, an epic poem. He penned the book over a course of a decade, in which he travelled to various parts of the country collecting inspiration. In this conversation Lamsal talks about what it takes to be a poet, what inspires him and how he maintains a balance between his profession that thrives on objectivity with his passion that feeds on feelings. Excerpts:
What was the inspiration behind Dhara, your latest release?
Dhara is my second Mahakavya—an epic poem—which I wrote over a course of ten years. The book draws inspiration from Nepali culture, history, and geography, and celebrates the sense of being identified as a Nepali. Through this work, I have tried to decipher cultural divides—the whys and hows of the diversity in caste, culture, language and tradition that exists across various ethnic groups. I have placed an emphasis on the fact that no matter what ethnicity we belong to, at the end of the day we are all just Nepali.
Also, I travel a lot and one of the most important takeouts from my travel experiences has been the realisation that no matter where we are raised, no matter where we live, our realities are not as different as we think they are. We are similar to one another in more ways than we think. This book is an attempt to make my readers understand that politics will always try to divide, but we will only thrive on unity.
As a poet, do words come to you spontaneously or do you plan before you settle down to write? What is the process like?
Poetry is my passion. It's my ticket to a world that's much more peaceful than the one we are living in. While I do sometimes plan before I write about something, more often it's just instinctive. Most of my poems have resulted from a thought, a preoccupation or an observation that I just need to get off my chest. However, once it's down on paper, I am very critical of my work. I don't leave my work unpolished. I edit my work as many times as it needs to be edited. Poetry is not just about scribbling your feelings; it's about giving structure to them. Poetry is feelings that have morphed into a message. I strongly believe that how you present your poems plays a big role in how the readers respond to it. Hence, even if it's initially instinctive, once the words are out of my system I go through a rigorous process to give them a proper shape.
You have worked as a journalist for more than two decades. How has the profession helped you in your creative writing?
My profession has helped my creative writing immensely. My job has allowed me to travel to a lot of places and meet a lot of people in the country; the experiences I collect during the journeys always turn out to be inspirations for my creative process. But it goes both ways, even creative writing has helped me on the job by bringing in the aesthetics of literature to it.
You hold a PhD in Nepali literature, and you have been working in the field for a long time now. What reforms should be made in the arena to attract younger readers?
The one reason why we are not being able to instill reading habit in the younger generation is because we are failing to write books that inspire them. Most writers write books keeping in mind what the readers might desire, while what they should be focusing on is what the readers might need. When writers write to please, it always backfires. We need to write things that evoke empathy and enthusiasm in readers. Another thing that might need to change is shifting attention to the positive. So many literary works ooze out negativity and as a result frustrate the readers and push them away. Readers need something that can make them better and happier human beings and this has been widely overlooked.
What do you think makes a good poem?
Any poem that touches the reader's heart, mind and soul is a good poem. Good poems also bring something new to the table, they are fresh. Instead of following the convention, they are rebellious in nature. A good poem speaks of the poet's personal style and language, and even if it is saying something old, it says it in a whole new way. Source: The Kathmandu Post