71% voted in largely peaceful election: EC; Acting Prez Pun congratulates, thanks voters
May 14, 2017 | 8:55 pm&nbsp&nbsp&nbsp&nbsp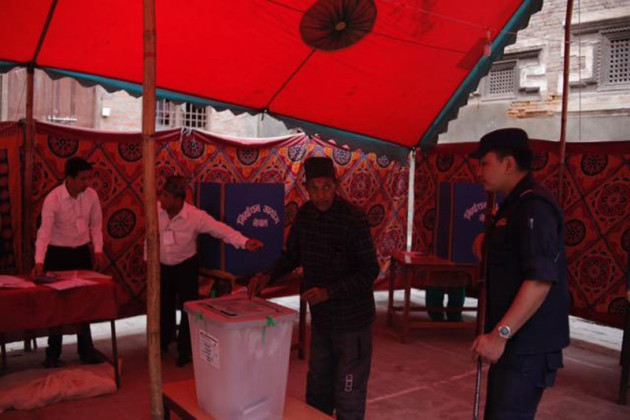 Kathmandu / May 14: Election Commission has officially said that more than 71 percent of the total voters in three provinces cast their votes in the first phase of the local level election.
The EC organized a press conference after the conclusion of voting in the first phase on Sunday and said that the election remained a success. "Preliminary data of voter turnout stands at 71 percent," said Chief Election Commissioner Ayodhee Prasad Yadav.
CEC Yadav also stated that the voting concluded in peaceful manner and it has cancelled only in three polling centers. According to Yadav, election has been cancelled in Melung polling center of Dolakha, Namobuddha of Kavrepalanchowk and Kalika of Kalikot.
CEC Yadav also urged people to have restrained in collecting ballot boxes and respect people's mandate. He also informed that helicopters are being used to transport ballot boxes from polling stations in some mountainous districts.
Acting Prez Pun congratulates, thanks voters
Acting President Nanda Bahadur Pun has said concluding the first phase of local level polls was a historical success for the implementation of new constitution.
Issuing a statement as soon as the first phase of local level polls concluded in three provinces, Pun urged all the political parties and the government to focus on second phase of local level polls after resolving all the impending issues through mutual dialogue, agreement and cooperation.
"I believe that the second phase of local level polls would also be concluded successfully as the first one that concluded like a grand festival," Pun said.
Today's historical day, he said, was very important day for Nepali people.
"Since local level was the pillar to lead the nation towards prosperity and strengthen democracy this poll would open the door of prosperity by strengthing democray in the country,"he added.
Pun thanked and congratulated all the voters for utilizing their sovereign voting rights actively involving in the voting process.
He also thanked all the stakeholders including government, Election Commission, government employees, security forces, political parties, journalists, observers and volunteers for conducting the polls successfully.