EC decides to expedite vote counting; Election Overview
May 16, 2017 | 9:31 pm&nbsp&nbsp&nbsp&nbsp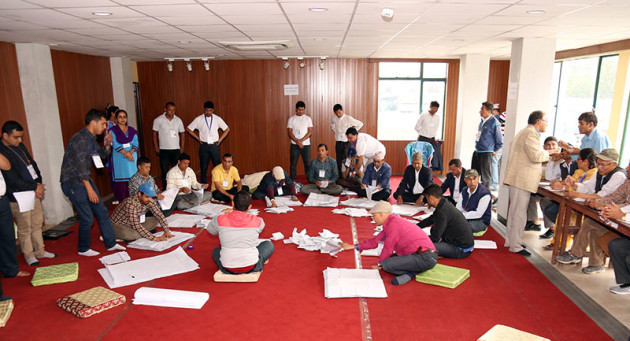 Kathmandu / May 16: The Election Commission on Tuesday has decided to assign additional teams to expedite vote counting in various places.
EC spokesperson Surya Prasad Sharma said the additional teams would be mobilised to speed up the counting process. Sharma further said the concerned election officers would depute the additional counting teams as per the need.
The EC has made the decision to address the growing concern about the painstakingly slow rate of vote counting across the 34 districts in Province – 3, 4 and 6.
Nepal on Sunday successfully commenced the local level elections to select local representatives in 281 local units.
The EC spokesperson informed that the 14 local representatives including 3 local bodies from Manang district, 5 local units from Mustang district, 3 local units from Dolpa district, 1 local bodies each in Baglung, Jumla and Kalikot, have been declared.
Meanwhile, EC which was counting the votes of ward number 1 and 32 has formed a separate team to count votes of ward number 2 to expedite the vote counting.
Election Overview
Winning chairpersons/mayors
Nepali Congress
1. Nasong Rural Municipality, Manang-Chandra Ghale
2. Narfu Rural Municipality, Manang- Mingma Tsering Lama
3. Barhagaun Mukti Kshetra Rural Municipality, Mustang- Phensok Chhopten Gurung
4. Lomangthang Rural Municipality, Mustang-Subarna Bista
5. Thasang Rural Municipality, Mustang – Buddhi Prasad Serchan
6. Kushe Rural Municipality, Jajarkot – Hari Chandra Basnet
7. Tamankhola Rural Muniicipality, Baglung – Jokh Lal Budha
8. Dungeshwar Rural Municipality, Dailekh – Nagendra Malla
9. Bungdeekali Rural Municipality, Nawalparasi – Durga Bahadur Rana
10. Sinja Rural Municipality, Jumla – Dewal Singh Rawal
11. Chumnubri Rural Municipality, Gorkha – Dhan Bahadur Gurung
12. Patarasi Rural Municipality, Jumla – Laximan Bohara
13. Triveni Binayi Rural Municipality, Nawalparasi – Dambar GC
CPN-UML
1. Kaike Rural Municipality, Dolpa- Angad Rana
2. Se-Phoksundo Rural Municipality, Dolpa- Tasi Tunduk Gurung
3. Chame Rural Municipality, Manang- Lokendra Ghale
4. Nesyang Rural Municipality, Manang- Kancha Ghale
5. Gharapjhong Rural Municipality, Mustang- Aas Bahadur Thakali
6. Phedikhola Rural Municipality, Syangja – Ghanashyam Subedi
7. Madi Rural Municipality, Kaski – Bed Bahadur Gurung
8. Thulibheri Municipality, Dolpa – Ganesh Bahadur Shahi
9. Mahankal Rural Municipality, Lalitpur – Ram Chandra Dahal
10. Dhorchaur Rural Municipality, Salyan – Chitra Bahadur Chalaune
11. Phedi Khola Rural Municipality, Syangja – Ghanashyam Subedi
12. Devghat Rural Municipality, Tanahu – Durga Bahadur Thapa
13. Gosaikunda Rural Municipality, Rasuwa – Nurpu Tamang
14. Narayan Municipality, Dailekh – Ratna Bahadur Khadka
CPN (Maoist Center)
1. Guthichaur Rural Municipality, Jumla- Hari Bahadur Bhandari
2. Sanni Triveni Rural Municipality, Kalikot-Dambar Shahi
3. Jagadulla Rural Municipality, Dolpa- Narsingh Rokaya
4. Munkechula Rural Municipality, Dolpa- Datta Bahadur Shahi
5. Hima Rural Municipality, Jumla – Raj Bahadur Shahi
6. Tajakot Rural Municipality, Hmula – Bagdal Malla
7. Marin Rural Municipality, Sindhuli – Pani Raj Bamjon
8. Darma Rural Municipality, Salyan – Nim Bahadur KC
9. Sani Bheri Rural Municipality, Rukum – Nar Bahadur Pun
10. Konjyosom Rural Municipality, Lalitpur – Gopi Lal Syangtan
11. Musikot Municipality, Rukum – Devi Lal Gautam
Independent
1. Dalome Rural Municipality, Mustang- Lopthang Tsering Bista (Raju)
2. Chhaka Rural Municipality, Dolpa – Temba Gurung