Prez Bhandari returns home wrapping up 4-day Sri Lanka visit; Buddha's philosophy is basis of ties between Nepal and Sri Lanka: Prez
May 16, 2017 | 9:32 pm&nbsp&nbsp&nbsp&nbsp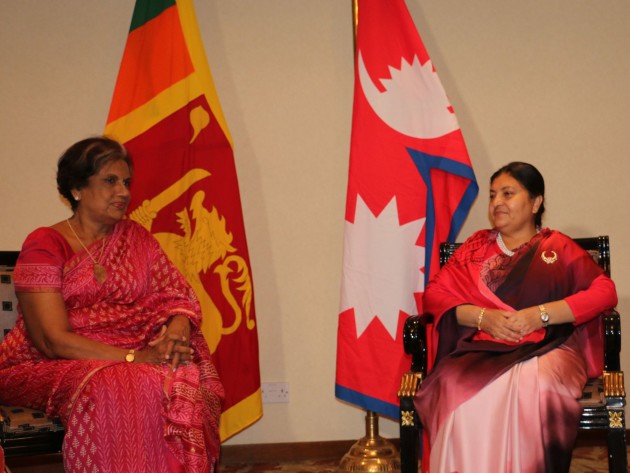 Kathmandu / May 16: President Bidya Devi Bhandari left Colombo for Kathmandu this afternoon upon the completion of her four-day official visit to Sri Lanka, according to the Embassy of Nepal, Colombo.
She had a meeting with former President of Sri Lanka Chandrika Bandaranaike Kumaratunga in Colombo today itself. Views upon empowerment of women, women's participation in the social development and politics and issues of common concerns were discussed during the meeting.
Similarly, President Bhandari attended breakfast meeting hosted by President of Sri Lanka Maithripala Sirisena in his official residence in Kandy yesterday.
She also participated in a program on Women Empowerment organized in her honour by Minister of Women and Child Affairs of Sri Lanka in Colombo the same day.
Moreover, on 15 May, the President paid homage to the Keleniya Temple in Colombo which is believed to be visited by Gautam Buddha after attaining enlightenment.
She also participated in an interaction program with the Nepali Community and dinner reception hosted by Embassy of Nepal in her honour in Colombo on 15 May, added the Embassy.
Buddha's philosophy is basis of ties between Nepal and Sri Lanka: Prez
Former President of Sri Lanka Chandrika Bandaranaike Kumaratunga paid a courtesy call on President Bidya Devi Bhandari, who is currently on a visit to Sri Lanka, at the Hotel Hilton in Colombo on Tuesday.
In the meeting, President Bhandari expressed her confidence that her visit will further strengthen the age-old friendly bilateral relations between the two countries, taking to a new height.
She expressed that the bilateral friendly ties and cooperation between the country of 'Highest Peak Mt Everest' and the country known as the 'Pearl of the East' was inspired by close social, cultural and religious level, adding that lord Buddha's philosophy and message have contributed a lot to establish people to people relations.
According to General Administration Minister Keshab Kumar Budhathoki, who is accompanying President Bhandari on the visit, President Bhandari shared that the rights of women and marginalised groups were protected by the constitution of Nepal and the government was working out to implement the constitution through elections.
On the occasion, former Sri Lankan President Kumaratunga said that the mutual trust and welfare between two countries were gradually increasing and Sri Lanka was always with Nepal for its welfare and development. RSS