Nepal as a nation has won in local polls: PM
May 19, 2017 | 10:02 pm&nbsp&nbsp&nbsp&nbsp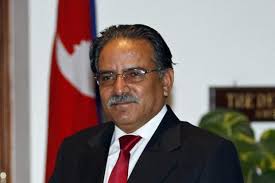 Chitwan / May 19: Prime Minister Pushpa Kamal Dahal has said that Nepal as a nation and its people have won the local level elections, and urged all to celebrate the victory.
Speaking at an inaugural ceremony of the Agriculture and Forestry University's central office building in Rampur of the district on Friday, PM Dahal said he felt the winner himself notwithstanding the party's performance in the polls.
He also expressed satisfaction for the successful holding of the first phase of elections in the federal set-up. The PM further said the preparations were underway to hold the second phase of local polls on June 14.
He also acknowledged the challenges of holding the second phase of local polls.
Dahal stated he would hold a meeting with major political parties and Madhes-based parties in a bid to create a conducive environment for holding elections in Provinces 1,2 5 and 7, after returning to the Capital.
The CPN Maoist Chairman Dahal claimed that after the completion of the second phase of local polls, all the political achievements would be institutionalised and people would also witness the pace of development in their regions.
PM Dahal also said he felt relieved by successfully holding the local level elections in the country, and added, "The nation has entered a the new era".