EC update "9561 representatives elected in 229 local bodies";  Election will become a festival: PM Dahal
May 21, 2017 | 9:50 pm&nbsp&nbsp&nbsp&nbsp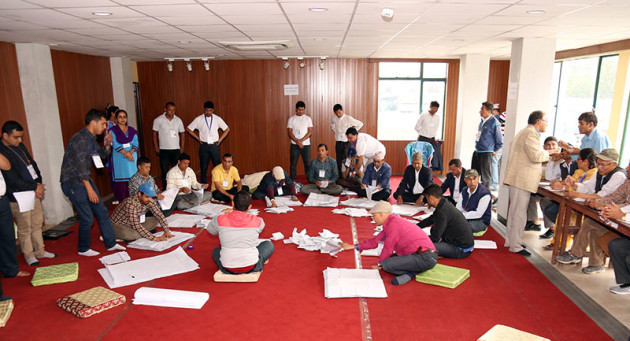 Kathmandu / May 21: The Election Commission on Sunday said that 9,561 representatives in 229 local units have been elected in 34 districts of Province number 3, 4 and 6.
EC spokesperson Surya Prasad Sharma informed that 229 candidates were elected as mayors, 229 candidates as deputy mayors, 1959 candidates as ward chiefs, 3613 candidates as ward members, 1804 candidates as woman representatives and 1727 candidates as Dalit members.
Sharma also informed that Nepali Congress' candidates have been elected as mayor in 87 municipalities and 72 candidates as deputy mayor. He also informed that UML's candidates have been elected as chiefs in 96 local bodies and deputy chiefs in 103 local units.
Meanwhile, Sharma said that the results of the local polls commenced on May 14 for 283 local bodies in 34 districts would be announced in a couple of days.
Election will become a festival: PM Dahal
Meanwhile, Prime Minister Pushpa Kamal Dahal has urged all to remain confident that the second round of local-level election would take place in the scheduled date.
Talking to media persons before addressing a politburo meeting of CPN (Maoist Center) province no 2 at Janakpur today, Prime Minister Dahal said that the election in Madhes would be like festival. He said that more votes would be cast in Madhes as compared to hilly areas, as the Madhesi people are eager to participate in the election.
The Prime Minister assured that the election would address some demands of Madhes and some other demands would be addressed through the constitution amendment. The Prime Minister is scheduled to return Kathmandu today itself. RSS