EC update "10,640 representatives elected in 241 local units";  Election results was as expected, concludes Maoist Center
May 22, 2017 | 10:13 pm&nbsp&nbsp&nbsp&nbsp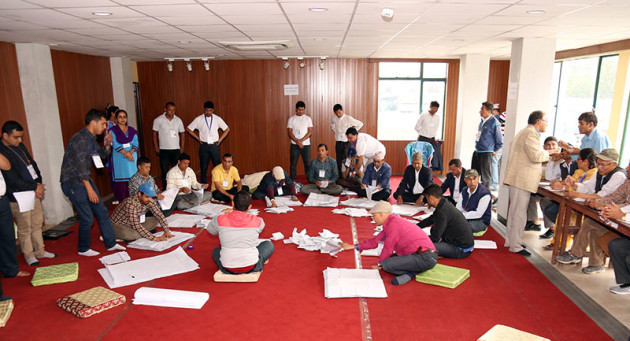 Kathmandu / May 22: The Election Commission on Monday has informed that 10,640 representatives in 241 local bodies have been elected in the first phase of local level election in 34 districts of Province number 3, 4 and 6.
Election Commission Surya Prasad Sharma said 241 candidates were elected as mayors, 241 candidates were elected as deputy mayors, 2066 candidates were elected as ward chair, 4088 candidates were elected as ward members, 2043 candidates were elected as woman representatives and 1961 candidates as Dalit members.
Likewise, CPN-UML has 118 candidates as mayor and 130 candidates as deputy mayor where as Nepali Congress has 103 candidates as mayor and 80 candidates as deputy mayor. CPN Maoist Centre ranks third as 46 candidates have been elected as mayor and 45 candidates have clinched deputy mayor posts.
Meanwhile, the full vote counting details of the remaining 42 local units' area awaited.
EC spokesperson Sharma further said preparations are underway for second phase of local level election in 41 districts in Province number 1, 2, 5 and 7 on June 14.
Election results was as expected, concludes Maoist Center
Meanwhile, a meeting of CPN (Maoist Center) held at the central party headquarters on Monday in Peris Danda has concluded that the party has achieved the election results as expected.
Chaired by Prime Minister Pushpa Kamal Dahal, the meeting also reviewed the election results and concluded that it was as expected.
"The party has achieved the anticipated results even though the it took a plunge into the local level elections without necessary preparations," reads the conclusion.
Reviewing that the Maoist Center has won elections in 46 out of 283 local units, the party vowed to clinch victory in these units in the upcoming provincial and national elections.
Concluding the meeting, Prime Minister Pushpa Kamal Dahal said that it is a huge success of the Maoist Center to transfer the administrative power to every household by holding the first phase of local level elections, which was earlier limited to Singha Durbar.
The meeting has decided to adopt appropriate strategy to ensure wins in the next elections.