Prime Minister Dahal resigns (With full text)
May 24, 2017 | 10:11 pm&nbsp&nbsp&nbsp&nbsp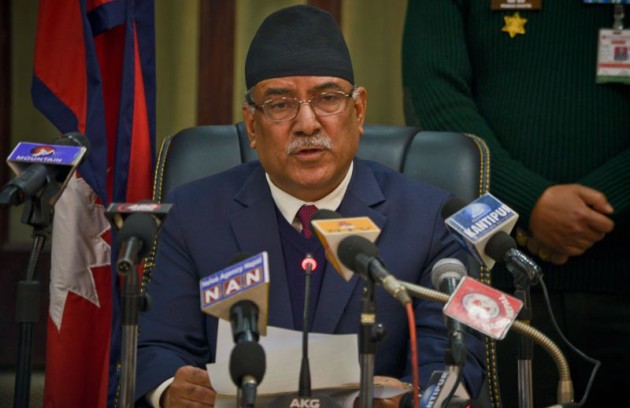 Kathmandu / May 24: Prime Minister Pushpa Kamal Dahal has resigned from his post on Wednesday. In a televised addres to the nation, Dahal briefed the nation on the achievements made during his stint as the prime minster before announcing his resignation.
Addressing the nation, Dahal boasted about playing a significant role to building up social harmony between Tarai, Hill and the Mountain and improving trilateral relations among Nepal, India and China.
Signing the the China-proposed ambitious project One Belt One Road (OBOR) Initiative was an another important achievement made during my premiership, said Dahal.
He said that the load shedding, which had been crippling the country, for long was ended after he took charge as the prime minister. He maintained that the country experienced a 12-year-low inflation rate and is on its way to witness the economic growth by 7.5 per cent in 24 years after the load shedding was ended.
He further said that the country will generate 200 megawatt electricty within 1 year, 600 megawatt in 2 years and within 3 years 1,200 megawatt.
Similarly, the long-held dream of Kathmandu Valley denizens to drink Melamchi water is going to be fulfilled by October this year, Dahal said.
"The fast-track and the postal highway projects which were the major issues of political discourse but had not fallen into the priority of any previous government became possible during my leadership. The Nepal Army is going to build the fast-track which connects Tarai and Kathmandu Valley ," said Dahal.
He did not forget to mention that his able leadership made it possible to hold the first phase of local level elections that had not been held for the last 20 years.
Dahal had been elected as the 39th Prime Minister of Nepal on August 3 in 2016 at the backing of Nepali Congress, the largest party in the House, United Democratic Madhesi Front and some other fringe parties.
NC and CPN (Maoist Center) had reached a seven-point deal to bring down then KP Sharma Oli-led government and form a new one under the leadership of PM Dahal on July 12. According to the agreement signed between the two parties, former Maoist leader Pushpa Kamal Dahal would lead the government for the first nine months.
Thereafter, Prachanda would hand over the leadership to Nepali Congress President Sher Bahadur Deuba. As per the agreement, Prachanda was supposed to hold local level elections, while Deuba would hold elections to the provincial assemblies and Parliament during the remaining nine months.