Prez Bhandari presents govt policy and programme for FY 2017/18
May 25, 2017 | 10:38 pm&nbsp&nbsp&nbsp&nbsp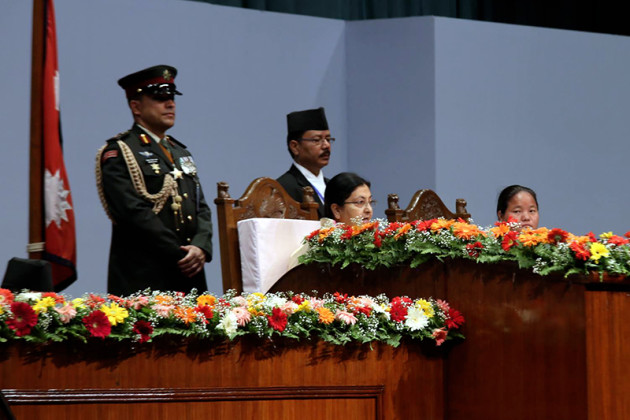 Kathmandu / May 25: President Bidya Devi Bhandari has presented the government's policy and programme for the fiscal year 2017/18 at the Legislature-Parliament on Thursday.
Reading the document handed over by Prime Minister Pushpa Kamal Dahal, the Head-of-State said that the government had successfully held the first phase of local level elections and was committed to conducting the second rounds on June 14.
Only after the election in all three levels—local, provincial and federal— the Constitution would be fully implemented. So the government has expressed commitment to hold the three-tier of elections by January 21, 2018, by providing necessary logistics to the Election Commission.
Restructuring of bureaucracy according to the federal set up in the country are in the programmes.
The government has also aimed to give a logical conclusion to the 'Comprehensive Peace Process' by carrying out the remaining tasks and for this aim, resources would be allocated to the Truth and Reconciliation Commission and the Commission of Investigation on Enforced Disappeared Persons so as to make them effective.
In the policy and programme of the government, efforts to revitalise the economy of the government have been laid out. Attainment of 7 % economic growth in the current fiscal year, a milestone achievement of the government, according to the policy, will be the target in the coming fiscal year as well.
Construction and reconstruction by involving the private sector and the resettlement of earthquake victims are the priority of the government.
Enhancement of the capacity of National Restructuring Commission and acceleration of infrastructure development programmes have been laid out as well. For the execution of national pride projects, resources would be made available alongside their supervision and monitoring.
Acknowledging the energy sector as the backbone of the economic growth in the country, plans have been put forward to be self-reliant in energy.
The government has acknowledged agriculture as the major national product sector and have got a plan to modernise it. Sustainable use of forest resources and the processing of herbs in the country are also the priority.
The attraction of foreign direct investment, encouragement of export, promotion of religious tourism in the country, conservation of dying out languages and cultures are also the priority of the government in the coming fiscal year.
Women empowerment, upliftment of the disadvantaged community, education and health are also in the top priority of the government policy and programmes.