Federal Alliance to disrupt June 14 polls
May 26, 2017 | 9:47 pm&nbsp&nbsp&nbsp&nbsp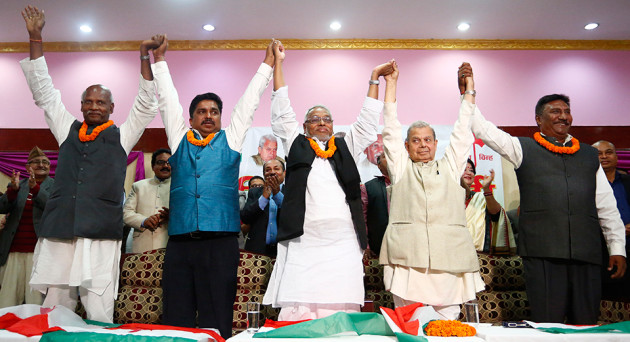 Kathmandu / May 26: The Federal Alliance on Friday announced stir against the second phase of local polls slated for June 14, saying the government failed to address its demands.
After holding a meeting here today, the FA issued a press release and announced programs aimed at disrupting the polls.
The FA announced that it would impose general strikes on June 1 and 2 in Madhes- Tharuhat and in Limbuwan. This is aimed at disrupting the second phase of elections as candidates will have to file their nominations on June 2.
The FA also decided to padlock election offices in all municipalities and rural municipalities on May 30 and bring out torch rallies in all the district headquarters, municipalities, and major places of the districts on May 31.
The FA stated in its release that it would bring a torch rally in all the sub-metropolitan cities and municipalities on May 27 and baton rallies in the headquarters of all districts, municipalities and village municipalities on May 28.
The alliance also decided to hold a broader interaction with industrialists, intelligentsia, professionals, journalists, youths, students and workers on May 29.