Some 100,000 staff to be deputed on poll duty besides security personnel
May 27, 2017 | 9:39 pm&nbsp&nbsp&nbsp&nbsp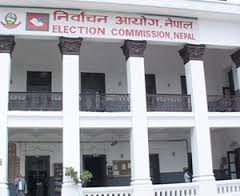 Kathmandu / May 27: The Election Commission has stated that it was going to deploy around 100 thousand employees besides the security personnel for the second-phase local level election to be held on June 14.
EC spokesman Surya Prasad Sharma said all sorts of preparations for the second-phase election have been completed and 95 thousand 931 employees except the security personnel have been deployed for the election works.
The election is taking place at 461 local levels. There are 6718 voting centres and 11,931 polling booths. A total of 23 thousand 383 people's representatives would be elected from the election.
The offices of the Chief Election Officer have been set up in 43 districts of the four provinces on May 20 itself and are already operational. The District Court Judges of the respective districts have been assigned the responsibility of the Chief Election Officer while the employees of the Under-Secretary level of the civil service and the judicial service will take up the responsibility of Election Officer.
The office of the Election Officer at the local level would be set up on May 29. The Chief Election Officer will take the leadership of the election process throughout the district as well as carry out works as the Election Officer of the local level in the district headquarters.
The Chief Election Officer is also responsible for checking the election materials to be dispatched to every polling booth in the district concerned, manage other logistics, and managing and training the employees to be deputed to the polling stations.
According to spokesman Sharma, the Election Commission has already transported the voters' list, the voters identity cards and all the election –related logistical goods to the respective districts.
The second-phase local election is taking place in 12 Sub-metropolitan Cities, 156 Municipalities and 293 Rural Municipalities.
Although the government had recently added 22 local level units, this decision has been suspended by a Supreme Court stay order. RSS