Impeachment motion withdrawn after UML warning
May 29, 2017 | 10:52 pm&nbsp&nbsp&nbsp&nbsp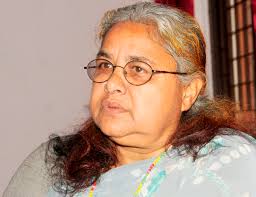 Kathmandu / May 29: After warning from the main opposition CPN-UML to obstruct the budget speech, the ruling coalition has agreed to withdraw the impeachment motion registered against Chief Justice Sushila Karki.
The presentation of budget for fiscal year 2017/18 was delayed for about one and a half hours after the main opposition refused to allow the House proceedings to commence demanding withdrawal of impeachment motion against Karki.
UML Chief Whip Bhanubhakta Dhakal said his party agreed to resume House after the ruling coalition agreed to withdraw the impeachment motion.
Finance Minister Krishna Bahadur Mahara was scheduled to present the budget at the Legislature Parliament at 4 pm but he could only begin his budget speech at around 5:20 pm.