EC publishes new schedule for 2nd phase of elections; RJP Nepal suspends protest program
May 31, 2017 | 10:32 pm&nbsp&nbsp&nbsp&nbsp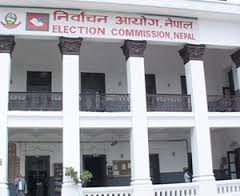 Kathmandu / May 31: The Election Commission (EC) on Wednesday released a schedule for second phase of local level elections scheduled for June 28.
In a press statement released on Wednesday, it has been mentioned that candidates can register nominations on June 16, and the same day the list will be published. On June 17, complaints can be registered against the candidates and the EC will examine the nominations on the same day and the following day.
On June 18, the EC will publish the list of approved candidates. On the same day, the candidates will get time to withdraw their candidacy. On June 19, the EC will publish the final list of candidates and provide them electoral symbols.
On Wednesday only, the government has re-scheduled the election date for second phase of elections on June 28.
RJP Nepal suspends protest program
Meanwhile, as the government rescheduled the second phase of the local level elections on June 28, the agitating Rastriya Janta Party Nepal (RJPN) has suspended all programs of protest.
Speaking with Republica, leader of the party Manish Suman informed that the party has decided to suspend all the programs including the general strike on June 1 and 2.
"As the government has rescheduled the election program and the election date, we have decided to suspend all the programs", said Suman.
He, however, said that the party is still waiting for their demands to be fulfilled, adding that the party will not take part in the election and will obstruct the election programs if their demands are not fulfilled.