KMC local reps administered oath of office and secrecy; 'Clean the city' first decision of mayor Shakya
May 31, 2017 | 10:32 pm&nbsp&nbsp&nbsp&nbsp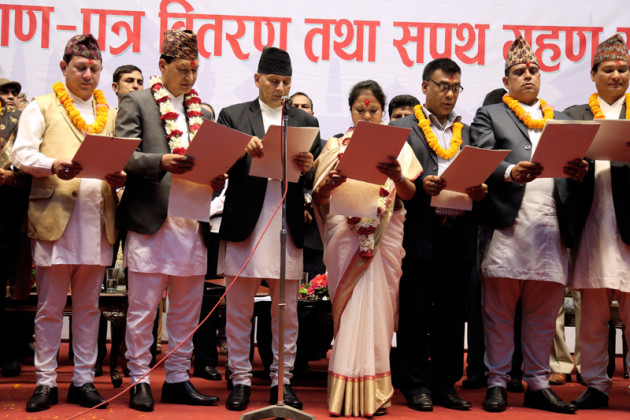 Kathmandu / May 31: Newly elected local representatives of the Kathmandu Metropolitan City were administered the oath of office and secrecy amidst a programme organised by the Kathmandu Metropolitan City Office in Kathmandu, on Wednesday.
Newly elected mayor Bidya Sundar Shakya, deputy-mayor Hari Prabha Khadgi and chairpersons and members of all 32 wards of the Metropolis were administered the oath of office and secrecy.
The mayor and deputy-mayor were sworn-in by KMC Chief Election Officer Dipendra Adhikari while ward chairpersons and members were sworn-in by Mayor Shakya.
Following the swearing-in ceremony, Mayor Shakya pledged to work in cooperation with all political parties to collectively transform the city into a beautiful, prosperous, lively and make it 'habitable'.
Deputy-mayor Khadgi vowed to work hand in hand with all stakeholders concerned to change the face of Kathmandu city by preserving religious heritages in the Valley. She insisted on the need of civic support to this regard.
KMC Chief Executive Officer Ishwor Raj Poudel said the Kathmandu people had chosen their representatives with the expectation that their representatives would help materialise their dream for a better city and a better life.
'Clean the city' first decision of mayor Shakya
Meanwhile, making the maiden decision to launch the cleaning campaign in Kathmandu, newly elected mayor of Kathmandu Metropolitan City, Bidhya Sundar Shakya has assumed his office on Wednesday.
Signing the file of the decision 'Clean the city' campaign, mayor Shakya and deuty-mayor Hari Prabha Khadgi informed that they will participate in the campaign.
During the program, mayor Shakya signed in both Nepali and Nepal Bhasha file. Before, he planted Rudraksha in the premises of KMC.
Deputy-mayor Khadgi logged in the updated website of KMC.
Earlier, following the oath taking ceremony, the newly elected mayor and deputy mayor visited different memorial parks across the city and paid tribute to the martyrs and leaders.