EC directs political parties to obey election code of conduct
June 10, 2017 | 11:23 pm&nbsp&nbsp&nbsp&nbsp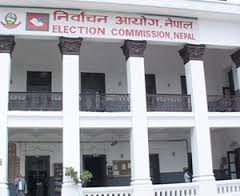 Kathmandu / Jun 10: As the second round of the June 28 local level elections is round the corner, the Election Commission has directed political parties and poll candidates to strictly abide by the election code of conduct in carrying out election-related campaigns.
A meeting of the Commission held today under the chairmanship of election commissioner Sudhir Kumar Shah asked concerned authorities not to distribute or causes to distribute T-shirts, caps and bags imprinted with election symbols, said the Commission Spokesperson Surya Prasad Sharma.
The meeting also directed respective chief election officers, election officers and chief district officers to monitor any violation of the election code of conduct and prevent such incidents.
Most of the political parties have selected candidates and started their election publicity campaigns for the second-phase local election.
Nine million 97 thousand 557 voters are going to the polls on June 28 to elect their representatives in Biratnagar and Birgunj metropolitan cities, 10 sub-metropolitan cities, 156 municipalities and 293 rural municipalities in province numbers 1, 2, 5 and 7.
Four hundred sixty-one mayors of metropolitan cities, sub-metropolitan cities, municipalities and chairpersons of rural municipalities and an equal number of deputy mayors and vice-chairpersons, 4086 Ward Chairpersons, equal number of women Ward Members and Dalit Women Members, and 8,172 ward members would be elected from the election.
The Election Commission has fixed 6718 voting centers and 11,931 polling stations for the election. RSS