Civil Scholarship Fund worth 3.5 million and IAESTE Nepal announced; 40 foreign volunteers heading to Laprak for reconstructing homes
June 14, 2017 | 9:47 pm&nbsp&nbsp&nbsp&nbsp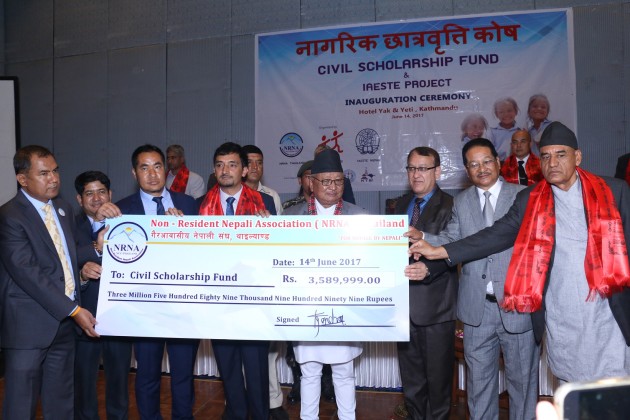 Kathmandu / June 14: Deputy Prime Minister and Minister of Education Gopal Man Shrestha inaugurated the Civil Scholarship Fund started by Non-Resident Nepali Association (NRNA), Thailand and International Association for the Exchange of Students for Technical Experience (IAESTE) project in Nepal.
President of NRNA-Thailand, Khagendra Raj Dhakal handed over the cheque worth NRs. 3,589,999 to Civil Initiative, a non-profit education-focused organization in the program in presence of the Deputy Prime Minister.
Speaking at the program, Deputy Prime Minister Shrestha said that this fund would help Nepalese students gain better education and technical experience. He thanked NRNA-Thailand for the contribution.
NRNA-Thailand is supporting disadvantaged children for long-term via a Civil Scholarship Fund, a non-expendable fund in coordination with Civil Initiative, a non-profit education focused organization in Nepal. The fund is targeted to provide scholarships to 80 Nepali students each year, with priority to earthquake-victim children for the first five years.
The program also inaugurated an international project IAESTE in Nepal. In his welcome speech, NRNA-Thailand President Dhakal informed about the IAESTE scholarship opportunities in Nepal.
IAESTE is a 70 years old international non-profit first established in the UK with its national offices in more than 80 countries. IAESTE provides traineeship scholarships to students with science, engineering, technology and applied arts background for the technical and professional experience at the end of the course.
Following the event, an international batch of 40 IAESTE engineering trainees from 23 countries and 30 different universities are starting a one-month volunteer work at Laprak Project (Gorkha), where NRNA is constructing 573 homes for the earthquake victims. Volunteers include those from Austria, Belgium, Brazil, Canada, Finland, Greece, India, Iran, Ireland, Lebanon, Norway, Poland, Slovakia, Spain, Sweden, Switzerland, The Netherlands, Turkey and the UK.
Welcoming them, Deputy Prime Minister and Education Minister Shrestha stated this would help Nepal in its recovery phase post the 2015 Gorkha earthquake.
Speaking at the program, His Excellency Bhakavat Tanskul, Ambassador of Thailand to Nepal, expressed his support for the post-earthquake reconstruction and education in Nepal.
NRNA president, Shesh Ghale, congratulated NRNA-Thailand for the initiative and informed about the Laprak project of reconstructing 573 homes for earthquake victims. Saroj Dawadi and Holger Stole shared their experience as IAESTE scholar.
Trekking Agencies' Association of Nepal (TAAN) announced Mahendra Shrestha, Vice-President of NRNA-Thailand as a Goodwill Ambassador.
Representatives from different embassies, university professors, academicians, VC of universities, IAESTE partners, PABSON, HISSAN, CTEVT, FNCCI, Ministry of Education, NELTA were present on the occasion.