KU senate approves budget of Rs 3.91 billion
July 5, 2017 | 10:13 pm&nbsp&nbsp&nbsp&nbsp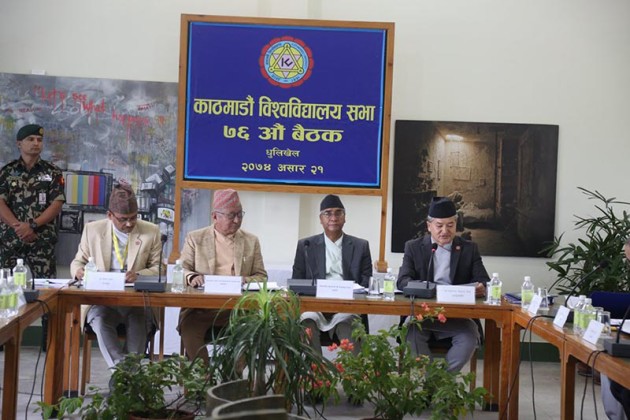 Dhulikhel / July 5: The 76th senate meeting of the Kathmandu University chaired by Prime Minister and its Chancellor Sher Bahadur Deuba today endorsed the audit report for fiscal year 2016/17 as well as passed the programmes and the budget for the next fiscal year 2017/18.
The senate meeting passed a total budget of Rs 3.92 billion, including Rs 2.64 billion towards the health sciences programme and Rs 1.272 billion in other programmes.
Addressing the meeting, PM Deuba urged the university to be accessible to the meritorious students from the underprivileged sections of society.
"The university should be made purely an academic institution and it should not be dragged into unnecessary controversies," he said, adding that the university should be fully freed of political interference. Prime Minister and Chancellor directed the university to reform its structure in tune with the time and expand programmes as per the need of time and society.
Education Minister and University Pro-Chancellor Gopalman Shrestha suggested the University emphasise on research that would help utilise natural resources available in the country for the welfare of the people. Minister Shreshtha, who is also the Deputy Prime Minister, said University academicians, its activities and research works be targeted towards finding solutions to problems facing the country.
Vice Chancellor Ramkantha Makaju Shrestha , presenting the works execution report of the current fiscal before the senate, said University educational and academic activities were also focused on making community productive and creative. It was working in cooperation with various domestic and foreign organisations to meet its goals and had started offering the opportunity for 'staff mobility' at all levels as it sought to enhance the capacity of its staff along with their personality development.
He added that knowledge and skills provided by the University were being used for the welfare of the people of remote areas as well.
According to information shared by him on the occasion, the University has, in commemoration of its silver jubilee, established the 'Vice Chancellor Silver Jubilee Scholarship Fund' targeting genius students from poor community. RSS