Chief Secy assumes office; PM directs to stop unnecessary foreign trips
July 13, 2017 | 9:44 pm&nbsp&nbsp&nbsp&nbsp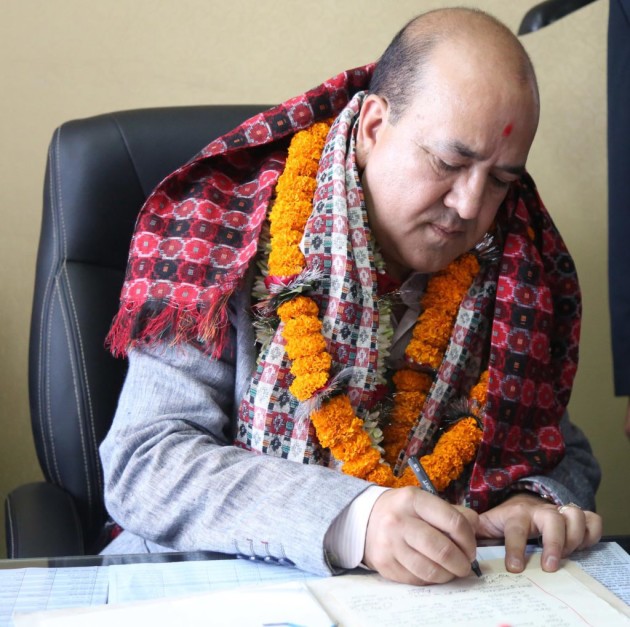 Kathmandu / July 13 : Chief Secretary Rajendra Kishor Chhetri assumed office on Thursday. After taking charge of the office at the Office of the Prime Minister and Council of Ministers at Singhadurbar, he directed the government secretaries and officials to fulfill the responsibilities of their respective ministries sincerely.
A meeting of the Council of Ministers this morning had appointed Chhetri to the post of Chief Secretary on the basis of seniority. Before this, he was the Secretary at the Ministry of Cooperatives and Poverty Alleviation.
Born on 25 October 1959 in Lainchaur, Kathmandu, Chhetri entered into the civil service on 2 January 1985 as a Section Officer. His term as the Chief Secretary will last until October 25, 2017.
Meanwhile, Prime Minister Sher Bahadur Deuba has directed newly appointed Chief Secretary Rajendra Kishore Chhetri to stop the civil servants from making unnecessary foreign visits.
PM Deuba called Chhetri on Thrusday immediately after his appointment and directed him to take necessary measures to stop the bureacrats from making abroad visits unnecessarily, informed Govinda Pariyar, Press Coordinator of PM Deuba.
"PM has shown his concerns over the issue after the news hit the media. PM has directed Chief Secretary Chhetri to stop the irrerelavant forign trip immediately", said Pariyar and added "The newly appointed Chief Secretary Chhetri has issued a circular regarding the issue among the secretaries of the government." RSS