Diners ignore floodwaters rushing through restaurant
July 18, 2017 | 10:35 am&nbsp&nbsp&nbsp&nbsp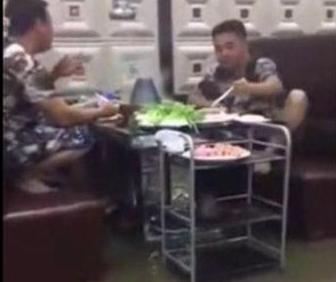 July 18: Diners at a Chinese restaurant were filmed ignoring rising floodwaters around their table while enjoying a hot meal.
The video, filmed Thursday at a restaurant in Changchun, Jilin Province, shows a table of diners with their feet up on the benches of their booth enjoying a hotpot meal despite the water rushing around them.
The camera pans through the restaurant, showing a few other customers working to escape the rising waters.
A Hong Kong man dubbed the "Starbucks Uncle" became a viral hero last fall when he was photographed reading his newspaper and drinking coffee in a flooded cafe.UPI.com