Natya Siromani Sama: His contributions remembered
July 18, 2017 | 10:54 am&nbsp&nbsp&nbsp&nbsp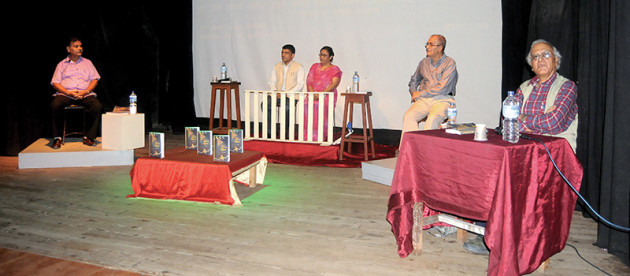 Kathmandu / July 17: Natya Siromani Bal Krishna Sama's contributions to Nepali plays were remembered and discussed during an interaction programme organised at Sarwanam Theatre, Kalikasthan on July 15.
Prof Dr Abhi Subedi, Prof Dr Sabitri Kakshapati, veteran theatre artiste Harihar Sharma, lyricist, writer and filmmaker Yadav Kharel, and Managing Director of Sajha Prakashan Dolindra Prasad Sharma shed light upon the works and skill of dramatist Sama. They talked about Sama based on the book Rangakarmi Bal Krishna Sama Ra Unko Rangashilpa by Prof Dr Kakshapati.
"We take him as a resource person. He was a pioneer who took plays to a wider space. He was also a sculptor, an artist, a photographer besides being a playwright, director and actor in the theatre," opined Kharel.
"There were limited plays and shows during Sama's time in Nepal. There were limitations regarding costumes and set design, yet Sama worked and uplifted Nepali theatre," he added.
The speakers also pointed out the unavailability of materials and resources necessary to conduct research on Sama and his plays. "We have got an opportunity to read his plays. But there are no recorded materials about those plays staged then that could help us now and in future. Had there been any photographs or videos that had recorded the dialogues, costumes, et cetera used in the plays then, it would have been easier to conduct research about Sama and his plays," opined Sharma.
The interaction also addressed the methodology of teaching plays in our academics. Upon a question asked by moderator Thakur Belbase: "Why haven't students been taught Sama's theatre skills and techniques in our University's (Tribhuvan University) classrooms?" Prof Dr Subedi answered, "Plays are included in our academics but there are even such professors who have taught about plays in class without ever watching a play in their life, and then taken retirement."
The event also saw discussions on limitations of staging lengthy plays and adaptation of plays into films. Source: The Himalayan Times