EC rectifies voters' registration decision; EC spends Rs6.3 billion for local polls so far
July 19, 2017 | 9:06 am&nbsp&nbsp&nbsp&nbsp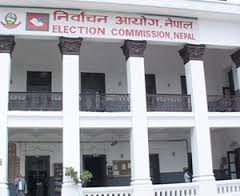 Kathmandu / July 18: The Election Commission on Tuesday said that voters can register in the voters' roll at all the 774 local bodies and from the place they are currently residing in sans having to go to the district headquarters.
"To make the voters' registration programme accessible to all and more effective, the EC has decided to carry out this task at all the local levels", said the EC in its press statement today.
Earlier, the EC had made it mandatory that voters went to their district headquarters in order to include their names in the voters' list.
However, after a backlash from the public and request from the political parties, the EC today rectified its previous decision and allowed people to register in the voters' list from the local levels as well.
Moreover, people now can register in the voters' list until August 16, 2017, as against the previous decision whereby they could register until July 30, 2017 in the local levels. In the district headquarters, however, the voters' registration and update of the voters' list would be carried out until the election dates are published, according to the EC.
Voters now can also apply for registration in the voters' roll from the districts other than the districts of their permanent residency, added the EC, saying this programme would also be carried out until the election dates are declared.
The Election Commission has started to update the voters list from July 16 for holding the elections of provincial level and House of Representatives –which should be held by January 21, 2018 as per the constitutional mandate- after the first and second phase of local level elections, though the third phase is going to be held in Province 2 on September 18, 2017.
EC spends Rs6.3 billion for local polls so far
The Election Commission (EC) has said it has so far spent Rs 6.3 billion under the heading of the local-level elections.
The government had allocated Rs 10.28 billion to the EC for holding the local-level election. The amount left unspent (around Rs 3 billion) in the last (2073-74 BS) fiscal year in the election was sent back to the government, EC spokesperson Surya Prasad Sharma said.
The EC has released Rs 3.52 billion to the Offices of Chief Election Officers and the Election Officers and Rs 1.31 billion to the regional and district election offices.
Likewise, the regional and district administration offices receive Rs 7.67 million and Rs 26 million was allocated to the Home Ministry.
Likewise, the EC itself spent Rs 1. 55 billion under the heading of the local-level election. Such budget was spent for the printing of ballot papers from the center, purchase of ballot boxes, printing of voters' identity cards, implementation of the voter's education classes, employees allowance, training, and transportation.
The government of India provided some vehicles for the purpose of election while China assisted various 11 sorts of election materials for the local-level elections. RSS