Parliamentary body asks ministries to boost coordination to solve foreign employment problems
July 19, 2017 | 9:31 pm&nbsp&nbsp&nbsp&nbsp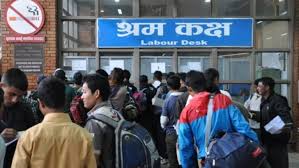 Kathmandu / July 19: The Ministry of Foreign Affairs, Home Ministry, and the Ministry of Labor and Employment, have been pressed to ensure strong and efficient coordination to resolve the problems relating to foreign employments.
Legislature-Parliament's International Relations and Labor Committee today drew the attention of government that the coordination among the concerned ministries was weak and inefficient, and the foreign missions were not cooperative with the stranded migrant workers. The Committee meeting argued that Nepali workers were facing problems as they were sent illegally.
At the meeting, Minister for Labour and Employment, Pharmullah Mansoor, said efforts were on to send the workers after forging agreements with the receiving countries. "The process of sending workers to South Korea is exemplary. If this process is adopted in case of other countries, the problems would reduce significantly," he said, adding that the Ministry would work in a transparent manner in this regard.
According to him, trainings would be conducted in all seven provinces and 75 districts across the country in order to provide pre-information to the foreign job aspirants. Technical education would be provided to the children of those losing lives during the foreign employments, the Minister assured.
On the occasion, former Prime Minister Madhav Kumar Nepal shared the information that those involved in the foreign employment frauds were protected and condoned in collusion with various sectors. "Impunity is the major problem in this sector. Why don't the foreign employment entrepreneurs doing wrong get punished," he wondered.
Committee Chairman JB Tuhure said discussion would be held with all concerned stakeholders and ministries to seek measures to solve the problems facing this field.
Ministry Secretary Laxman Mainali demanded the amendment of law to publish those trafficking women in the name of foreign employment. RSS