Five-member Constituency Delineation Commission formed; EC sets Sept 6 for filing nomination in Province 2
July 21, 2017 | 9:38 am&nbsp&nbsp&nbsp&nbsp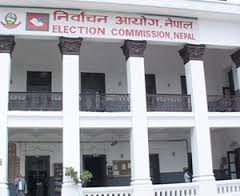 Kathmandu / July 20: The government has formed a long-overdue five-member Constituency Delineation Commission (CDC) led by former Chief Justice Kamal Narayan Das.
With the deadline of provincial and federal elecitons fast approaching, a cabinet meeting held in Singha Durbar on Thursday formed the commission headed by Das.
Madhav Adhikari, Bishwa Kalyan Adhikari, Ganesh Karki, Yogendra Sharma Paudel are members in the Commission.
The Cabinet also approved the resignation of Chief Secretary Dr. Som Lal Subedi.
EC sets Sept 6 for filing nomination in Province 2
Meanwhile, the Election Commission (EC), Nepal has set the date of September 6 for filing nominations of the candidates in Province 2 for the third phase of the local level elections.
Unveiling a press release on Thursday, the EC said the candidates will have to file their nominations at the respective municipalities and rural municipalities on September 6. Filing of nominations will begin at 10 am and will end at 5 pm. The list of candidacies will be published at 5:30 pm.
Similarly, complaints against the candidates will be filed from 10 am to 1 pm on September 7.
The candidates can withdraw their candidacies on September 8 while the final list of candidates will be published on September 9.
The EC has fixed the September 18 to hold third phase of local level elections in Province 2.
There are as many as 127 local units of 8 districts in the Province 2.