Handicrafts worth Rs 4.80 billion exported; Revenue generated from tourist entry fee doubled in Bhaktapur
July 23, 2017 | 10:04 pm&nbsp&nbsp&nbsp&nbsp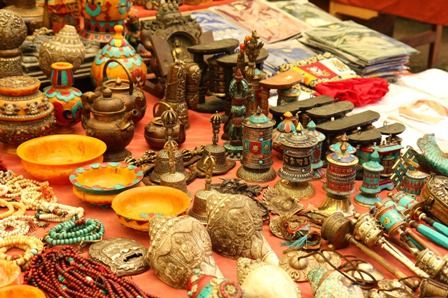 Kathmandu / July 23: Handicrafts worth Rs 4.80 billion have been exported from the country in the fiscal year 2016/17.
Different handicrafts manufactured from bamboo, Dhaka, crystal, leather, paintings, papers, silver ornaments were exported to foreign countries during the period.
According to Federation of Handicraft Association of Nepal, the highest amount of handicrafts was exported to the US. Handicrafts worth Rs 1.56 billion were exported to the US while handicrafts worth Rs 674 million, Rs 437 million and Rs 350 million were exported to China, Germany and Japan respectively.
Transaction of handicraft goods was higher by Rs 40 million in the fiscal year 2016/17 as compared to fiscal year 2015/16. However, the transaction of handicraft goods had decreased in the fiscal year 2015/16 due to the April 2015 earthquake.
Although 1,500 entrepreneurs are affiliated to the Federation, only around 400 entrepreneurs have been exporting handicrafts, according to the Federation.
Revenue generated from tourist entry fee doubled in Bhaktapur
Meanwhile, the revenue generated from tourist entry fees in Bhaktapur district has increased two fold in the fiscal year 2016/17 as against the previous fiscal year 2015/16.
Tourism officer of Bhaktapur Municipality, Gautam Prasad Lasiwa, said that the Municipality has earned Rs 199 million in 2016/17 whereas Rs 109 million was generated in the fiscal year 2015/16. A total of 189,350 tourists visited Bhaktapur in the fiscal year 2016/17, which saw an increase of 90.78 per cent from the previous fiscal year. After the April 2015 earthquake, the influx of visitors had been severely affected.
The Municipality has been charging entry fee at 14 entry points for the tourists visiting Bhaktapur city. It has been charging Rs 500 each from tourists of South Asian countries including China.
Tourist entry fee is the major source of domestic income for Bhaktapur Municipality, which is also being used to run 6 colleges along with the preservation work. RSS