OPMCM directs for speeding up road repair works
July 27, 2017 | 10:46 pm&nbsp&nbsp&nbsp&nbsp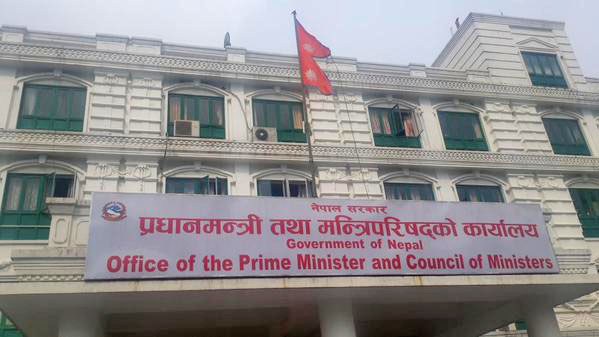 Kathmandu / July 27: The Office of the Prime Minister and Council of Ministers (OPMCM) has issued directives to the bodies concerned for speeding up the road repair works by maintaining coordination, following a monitoring of the works on Thursday.
The monitoring of the road repair works led by secretary at the OPMCM Chandra Kumar Ghimire and secretary at the Ministry of Physical Infrastructure and Transport Devendra Karki, was carried out this morning in the New Baneshwar-Old Baneshwar-Gaushala-Chabahil-Chuchchepati-Bouddha-Jorpati area.
OPMCM joint-secretary Damodar Regmi said in course of the monitoring they found that 10 big pits were yet to be filled at Chabahil. "There was need for more improvement on the Bouddha road. Kathmandu Valley Road Expansion Project among others have been directed to carry out the road repair works using fine quality pebbles and aggregates".
The monitoring team inspected the Chabahil-Gopikrishna Hall- Sukedhara-Narayan Gopal Chowk- Golfutar road after returning from Jorpati. It also inspected the Narayan Gopal Chowk- Samakhusi-Balaju road, the Narayan Gopal Chowk – Maharajgunj-Lazimpat-Lainchaur-Ratna Park- Sahid Gate-Tripureshwar-Teku-Thapathali-Babarmahal road.
The water supply pipe was found leaking and water flowing out on the road from Lainchaur to Narayan Gopal Chowk, water had collected and formed puddle at different places along the Tripureshwar-Teku road and various materials were found kept on both sides of the road at Teku and the OPMCM has issued directives to clear up the road promptly.
Officials of the Kathmandu Upatyaka Khanepani Limited, the KUKL Project Implementation Directorate, the Department of Roads, Kathmandu Valley Road Expansion Project, Kathmandu Valley Development Authority, the Department of Water Supply and Sewerage and other related offices were also involved in the monitoring teams.
Finance and physical infrastructure division chief Regmi added that the meeting of the concerned authorities was called at the OPMCM at 3:00 pm today itself to discuss various matters related to roads as coordination among these bodies was necessary.
Kathmandu Road Expansion Project chief Deepak KC shared that Project Implementation Directorate was filling up the potholes dug up for fixing water supply pipes.
He added that the concerned bodies were active to fill up the holes and the task will be completed soon. The project office has stated that task of blacktopping of Tripureshwar-Teku road section will be completed within a month as it was made ready for blacktopping.
Prime Minister Sher Bahadur Deuba had directed the authorities concerned to fill up the potholes and fix the roads in the Valley after a schoolgirl, Binita Phunyal drowned in a pit at Nepaltar and another schoolgirl Satya Sapkota fell into a pit at Samakhushi some days ago.
After these unpleasant incidents, the task to repair the roads and fill up the holes has been intensified. It is stated that the Central Road Directorate and Division Office were working out to maintain the roads and fill up the potholes and pits.
Similarly, it is stated that the local units were allocated to fill up the potholes of the road sections which are less than eight meter in width. RSS