Dr KC's hunger strike: Talks with govt team inconclusive; Chitwan locals demonstrate in support of Dr KC
July 28, 2017 | 9:48 pm&nbsp&nbsp&nbsp&nbsp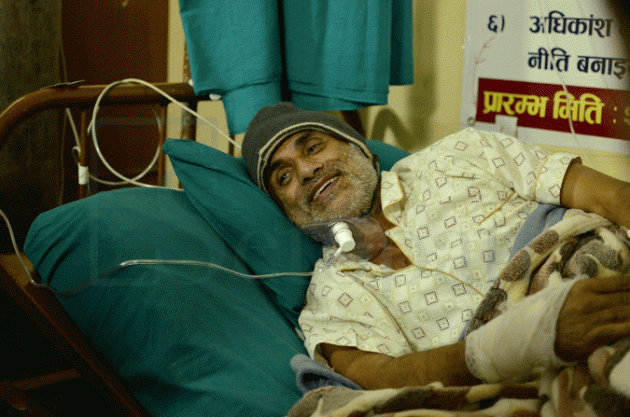 Kathmandu / July 28: A meeting between government team and representatives of agitating Dr Govinda KC held at the Ministry of Education in Singhadurbar on Friday has ended inconclusively.
The next meeting has been scheduled for Saturday. Earlier on Thursday, the government had formed a talks team under the headship of Education Secretary Shanta Bahadur Shrestha to address the demands of Dr KC— four days after the orthopaedic surgeon started his 11th hunger strike.
The government team and Dr KC's representatives had also held a meeting last evening as well, but the talks failed to make solid decision.
Dr KC's one of the demands is endorsement of the Health Profession Education Bill. The bill has been lying in the Parliament for the past one year.
The bill demands formation of an overarching regulatory framework for the medical education sector.
Dr KC has also been demanding mandatory enrolment of meritorious students in private medical colleges which have been admitting students with poor results, charging exorbitant amount of money from them.
He has also demanded that the Institute of Medicine be given the authority to enrol students, set fees and grant affiliation and de-affiliate medical colleges that fail to abide by the directives issued by the government and the court.
The government, however, had already addressed Dr KC's demand of appointing assistant deans and campus chief as per recommendation of the IoM dean.
Chitwan locals demonstrate in support of Dr KC
Meanwhile, Chitwan locals have staged demonstration expressing solidarity with Dr Govinda KC at Chubiskothi on Friday evening.
Senior orthopedic surgeon Dr KC, who is also the professor at the Institute of Medicine (IOM), has been staging fast-unto-death demanding reforms in medical education sector since last five days in Kathmandu. This his 11th fast-unto-death.
The demonstration was organized by Solidarity for Govinda KC Alliance Chitwan chapter. This was formed when KC staged hunger strike for the 8th time.
It started at 5 pm and lasted for half an hour.