If trend of Nepalis going abroad continues, it will cost Nepal dear
July 31, 2017 | 9:32 pm&nbsp&nbsp&nbsp&nbsp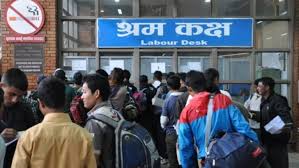 Biratnagar / July 31: Stakeholders have opined that if the current trend of Nepali youths going abroad for overseas employment continues for more than 10 years, it will have a negative impact on the social, economic and cultural aspects of the country.
National Human Rights Commission (NHRC), which is giving attention to the human rights condition of Nepali migrant workers, has shown a bleak picture on the number of youths going abroad for foreign employment.
According to NHRC member Sudip Pathak, as many as 3.5 million Nepali youths are currently working abroad apart from India. It is estimated that around 3 to 4 million youths are in India for jobs.
Similarly, 1.2 million Nepalis are in Qatar and Saudi Arabia alone.
In case the Nepali migrant workers are forced to return home at a time, it will impact Nepal seriously. Nepal also cannot bring them home easily.
For instance, to bring those 1.2 million, it takes around 18 months for Nepal to bring them by air, nine months by ship and eight years through the existing process of Nepal, said Pathak.