Collaboration sought for addressing Kathmandu's traffic problem
July 31, 2017 | 9:33 pm&nbsp&nbsp&nbsp&nbsp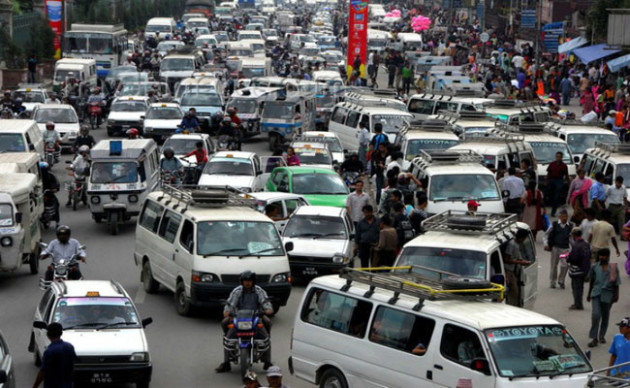 Kathmandu / July 31 : Cooperation and collaboration among all the stakeholders has been stressed for addressing the traffic problem in the Kathmandu Valley.
This was highlighted at a discussion programme organized at the Metropolitan Traffic Police Division by the Forum for Protection of Consumer Interest on Monday.
The speakers at the programme also pointed out the need of creating public awareness on road safety and traffic rules for the management of the traffic which is becoming more and more problematic each year.
Kathmandu Metropolitan City mayor Bidya Sundar Shakya underlined the need of a parking lot for managing the growing traffic in the Valley. "The KMC has the policy of promoting the mass transit vehicles. Now, the KMC will prioritize on removing the stalls on the footpath and footpath vendors and the construction of overhead bridges," he added.
Chief of the Metropolitan Traffic Police Division, Sarbendra Khanal said everyone's cooperation was needed for resolving the traffic problem in the Kathmandu Valley. He also urged the bodies concerned to fill up the potholes and trenches on the Valley's roads at the earliest.
Regional Director of the Department of Roads, Shivahari Sapkota said his foremost priority is to repair the roads that have been dug to lay the water supply pipes for the Melamchi Water Supply Project.
General Secretary of the Federation of Nepalese National Transport Entrepreneurs, Saroj Sitaula said the Valley's traffic problem is not going to be addressed until the appropriate infrastructure is developed. He also pointed out the need of a separate bus park for some 60 thousand long and short distance buses that operate in the Valley.
President of the Forum, Jyoti Baniya underscored on the need of coordination and cooperation among all sides for addressing the traffic problem in the Valley. RSS