Foreign Ministry working actively to rescue workers stranded abroad
August 2, 2017 | 9:38 pm&nbsp&nbsp&nbsp&nbsp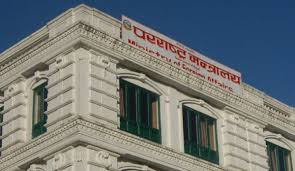 Kathmandu / Aug 2: The Ministry of Foreign Affairs has intensified the rescue of Nepali workers stranded abroad in course of foreign employment.
The arrival of Sita Tamang, 48, hailing from Panchakanya-4 Nuwakot in Kathmandu is the latest case of rescue. She was rescued from Kuwait.
Reached in Kuwati a year back, she extended heartfelt thanks to the Foreign Ministry for its initiative to rescue her from the torturous life- to the extent, she got her leg broken while fleeing the torture meted out by the owner.
She had reached there on 9 July 2016.
After she got her leg broken, she was admitted to a hospital, from where police detained her for 15 days. Even after the treatment, her days of agony did not end, but mounted. She had to return to the house she served earlier.
Narrating her ordeal in presence of Deputy Prime Minister and Foreign Minister Krishna Bahadur Mahara here today, Tamang said, "After I returned to the landlord's house from hospital, I was sold again to another person as a labour."
Luckily, though late, she came in contact with the Nepali Embassy there which finally led to her emancipation. Since she had come to Nepali Embassy's contact, Yuvraj Chaulagain, chief personal secretary of the Foreign Minister, continued efforts to bring her back home from the hell.
Similarly, with the Ministry's initiation, Ranjita Tamang, hailing from Panchthar district, was rescued from Oman, while Shyam Kumar Bohara, Sher Bahadur Nepali and Rabindra Kumar Yadav from Malaysia. They were brought home last week.
Fifteen others stranded in Dubai were rescued recently.
Nara Bahadur Magar is one rescued from Qatar. The families of the Nepali workers who died in workplace were provided the Qatari Riyal 159,860 each as the compensation, the Ministry said.
The Ministry was effortful to find and rescue those languishing in difficulty abroad. "I've mobilized a government taskforce to identify the stranded people and devoted to their timely rescue," Minister Mahara said on the occasion. He further said the companies sending Nepali workers abroad would be strictly monitored through effective coordination between the concerned committees of the parliament. RSS