SAARC process needs boost: General Secretary B Sial
August 3, 2017 | 11:02 pm&nbsp&nbsp&nbsp&nbsp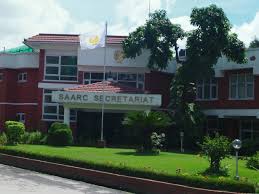 Kathmandu / Aug 3: Secretary General of the South Asian Association for Regional Cooperation (SAARC), Amjad Hussain B Sial, has viewed that the SAARC process could be strengthened by concentrating on development, poverty reduction and the projects relating to health and education.
During a programme on 'Revitalizing the SAARC Process' organized by Nepal Council of World Affairs on Thursday, Secretary General B Sial said the economic integration and connectivity among its member countries via land, sea and air would help revitalize the SAARC.
Similarly, the concentration on the projects that bring quick and noticeable change can obviously make the region dynamic, he said, pointing out the need of strict implementation of the past declarations.
He, however, shared that the SAARC agencies including South Asian University, SAARC Development Fund, SAARC Cultural Centres were working effectively.
The Secretary General argued that the SAARC secretariat was effortful to resolve the problems facing the expansion of relations in terms of promoting tourism among the member countries. He said that he had forwarded a concept of establishment of South Asian Medical University in a meeting of Health Ministers of SAARC countries recently in Sri Lanka and the meeting took positive initiative to submit such proposal before the bodies concerned.
Stressing that SAARC member countries should express their views collectively in international forums on matters of common interest, the SAARC Secretary General expressed the view that the SAARC should also expand its relations with international and multilateral organisations.
On the occasion, Council President Hemant Kharel and General Secretary Asim Thapa talked about the objectives and goals for the establishment of SAARC and presented details about the initiatives taken by SAARC member countries to strengthen the SAARC process. RSS