PM Deuba to visit India from Aug 23
August 7, 2017 | 9:48 pm&nbsp&nbsp&nbsp&nbsp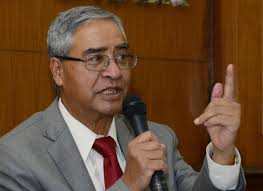 Kathmandu / Aug. 07: Prime Minister Sher Bahadur Deuba is all set to embark on an official five-day visit to India from August 23-27.
PM Deuba would be making a first foreign visit to India after being elected to the executive head of the nation.
The agenda of the visit is under discussion, according to Deputy Prime Minister and Minister for Foreign Affairs Krishna Bahadur Mahara.
Sharing his ministry's immediate action plan to media persons today, DPM Mahara said prior to PM Deuba's visit to India a high-level Chinese delegation led by the Vice-premier of China is visiting Nepal and that the visit would be concentrated on post-quake reconstruction in the country.
He also shared that the ministerial conference of the BIMSTEC member states meeting will be held in Kathmandu from coming August 10.
Foreign Ministers or equivalent level of participation from all seven member states will take place in the conference. The conference will then lead to the Summit of the Bay of Bengal Initiative for Multi-sectoral Technical and Economic Cooperation to be held in Nepal.
In response to a media query, DPM Mahara said Nepal was of the view that her two big neigbours-China and India maintain cordial relations through peaceful diplomacy and dialogue.
On the occasion, the Foreign Minister said the major immediate goal of Nepal's foreign policy was effective practice of economic diplomacy for a prosperous Nepal, while also raising Nepal's pride and prestige at the international level.
The immediate action plan has the slogan – 'distinct, free and independent Nepali foreign policy- diplomacy for international honour and national prosperity.
The action plan mentions that arrangements would be made for the implementation of the agreements and understandings reached with both the neighbouring countries in the recent days.
Deputy Prime Minister Mahara said that an inter-ministry or agency mechanism would be made for the country taking maximum benefits from the 'One Belt, One Road (OBOR)' agreement that has been signed with the Chinese government.
This mechanism would be entrusted with the required solid authority and responsibility, he added.
The action plan also states that regular interactions on important topics from the view point of foreign policy and contemporaneity with the ministry employees, ambassadors and experts for the structural reform of the Ministry of Foreign Affairs.
Likewise, an advisory committee would be formed and works carried out for the country to be able to benefitted from the skills and experiences of the former Foreign Affairs Ministers, former Foreign Secretaries, former ambassadors and experienced persons in the diplomatic sector.
The action plan states that works would be carried out in coordination with the bodies concerned for making the foreign employment safe, reliable and dignified and the Nepali diplomatic missions would be mobilized in an effective manner for this, Minister Mahara said.
He stated that initiatives would be taken to make the Group of Landlocked Countries effective in the international forums.
It is also stated that an independent foreign policy would be conducted keeping the nation's interest supreme and on the basis of the UN Charter, non-alignment policy, the panchasheel principles, international law and world peace and directed towards the protection of the country's sovereignty, territorial integrity, independence and national interests as mentioned in the Constitution of Nepal.RSS