GDAN to bring medical service to a grinding halt over KC's unfulfilled demands; NSU urges govt to address demands of Dr KC 
August 8, 2017 | 9:33 pm&nbsp&nbsp&nbsp&nbsp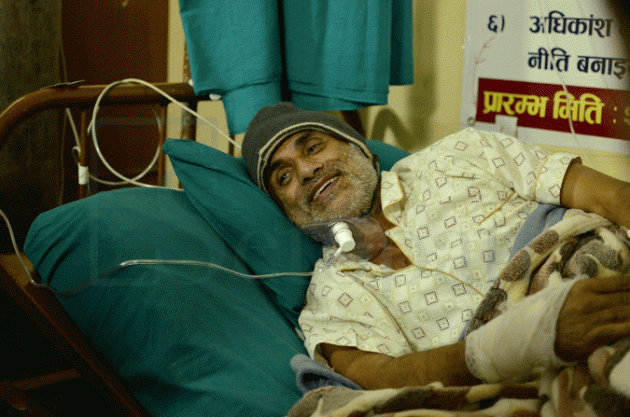 Kathmandu / Aug. 08: Government Doctors Association of Nepal (GDAN) has warned that it would bring medical service to a grinding halt except emergency ward saying that the government paid no heed to Dr Govinda KC's long-standing demands.
GDAN is an umbrella organization of medical doctors associated with government hospitals.
GDAN has made its protest programs public at a time when Nepal Medical Association (NAM) is dillydallying to come up with concrete programs.
Issuing a press release, GODAN said it will go to work wearing black arm bands beginning Wednesday and launch a strike nationwide if the government does not fulfill KC's demands immediately.
In the statement GDAN President Dr. Dipendra Pandey, said Dr KC's health is deteriorating as he has been staging fast-unto-death reforms in medical education sector since the last sixteen days.
Meanwhile, Nepal Student Union, students wing of Nepali Congress, has announced to hit the streets to pile pressure on the government to fulfill KC's demands.
NSU urges govt to address demands of Dr KC 
Meanwhile, Nepal Students Union (USU), the student wing of ruling Nepali Congress, has urged the government to immediately address the demands of Dr Govinda KC.
Senior orthopaedic surgeon KC has been staging hunger strike at the Maharajgunj-based Tribhuvan University Teaching Hospital (TUTH) for the past 16 days demanding reforms in country's medical sector. This is KC's 11th fast-unto-death.
A group of students led by NSU General Secretary Kundan Kafle on Tuesday afternoon reached the hospital and expressed solidarity with the demands of Dr KC.
Kafle accused the government of being sluggish in addressing the demands of Dr KC, who started his 11th hunger strike on July 25.
"The government does not looks serious towards the demands of Dr KC whose health is deteriorating day by day," he said, adding, "The government should address the demands of Dr KC promptly."
Dr KC's one of the demands is endorsement of the Health Profession Education Bill. The bill has been lying in the Parliament for the past one year.
The bill demands formation of an overarching regulatory framework for the medical education sector.
Dr KC has also been demanding mandatory enrolment of meritorious students in private medical colleges which have been admitting students with poor results, charging exorbitant amount of money from them.
He has also demanded that the Institute of Medicine be given the authority to enrol students, set fees and grant affiliation and de-affiliate medical colleges that fail to abide by the directives issued by the government and the court.