Context: International Youth Day— Creativity of youths must be acknowledged: Bishwokarma
August 12, 2017 | 9:35 pm&nbsp&nbsp&nbsp&nbsp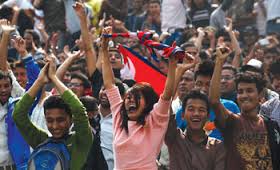 Kathmandu / Aug. 12: Minister for Supplies Min Bahadur Bishwokarma on Saturday said that the country has failed to recognise creativity of youths.
"World changes so far have been made possible with their dedication and creativity," said Minister Bishwakarma inaugurating the three-day National Youth Conference 2017 in the Capital.
The government would introduce a programme to create job opportunities for youths within the country, he shared.
Similarly, speaking at the event, Ministry of Youth and Sports Joint Secretary Ram Prasad Thapaliya said that he found it a challenging task to stop youths from going abroad for study or job.
Likewise, President of the NYC Nepal Saroj Baniya viewed that increasing outbound youths for foreign countries has caused country's development lagging behind.
The World Youth Day is observed across the world on August 12. The conference that will run for three days has been attended by youths from across the country. RSS