PM Deuba inspects flood-hit areas in eastern Tarai; Flood death toll climbs to 80: Nepal Police
August 14, 2017 | 10:07 pm&nbsp&nbsp&nbsp&nbsp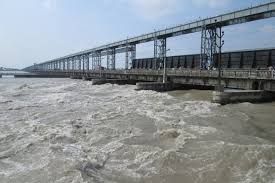 Biratnagar / Aug. 14: Half a dozen ministers including Prime Minister Sher Bahadur Deuba have arrived at Biratnagar to take stock of flood-hit areas in the eastern Tarai region on Monday.
The team inspected the flood-hit districts including Saptari, Sunsari, Morang and Jhapa by chopper.
According to DIG Ramesh Kumar Bhattarai, in-charge of East Regional Police Office, Biratnagar, Prime Minister Deuba, Defense Minister Bhimsen Das Pradhan, Home Minister Janardan Sharma, chiefs of security agencies, inspected the flood-affected eastern Tarai region by helicopter and landed at Eastern Division of Nepal Army, Itahari for information.
"We have briefed the ministers about the current status of floods, recue, and relief operations," said DIG. Prime Minister Deuba has directed us to leave no stone unturned while carrying out rescue and relief operations."
The high level team led by PM Deuba will inspect floods-affected areas of Jhapa and Morang districts after receiving updates from the NA Eastern Division before returning to Kathmandu.
Similarly, Deputy Prime Minister and Minister for Federal Affairs and Local Development Bijaya Kumar Gachchhadar leading a team comprising Finance Minister Gyanendra Karki, Minister for Commerce Meen Kumar Bishwokarma will inspect the flood-hit areas by helicopter today itself.
Flood death toll climbs to 80: Nepal Police
Meanwhile, the death toll from floods and landslides triggered by incessant rains since Friday has risen to 80, according to the latest data issued by the Nepal Police whereas at least 36 people remain missing in various districts.
Heavy rains that started four days ago have created chaos in the eastern, central and western regions of the country that left at least 25 injured. According to the latest updates issued by police, at least 2847 houses are damaged and 48,316 houses remain submerged in the flood water.
The flashfloods and landslides have affected thousands of families. As many as 21, 465 families are now confirmed displaced due to the natural calamities.
The government has not been able to dispatch necessary assistance and relief materials to the affected families due to the challenging weather condition. Several districts in the western Tarai have been witnessing continuous rains.
The incessant rains have particularly hit basic facilities including transportation, power supply and communications. Several major highways, notably the East West highway, and inner roads linking villages have been badly hit by the floods and landslides.
Dhurmus-Suntali Foundation distributes relief to flood victims
In another development, Artist Sitaram Kattel (Dhurmus) distributed relief materials to 88 families affected by floods in Janakpur. Kattel visited the Dalit settlement in Janakpur Sub-metropolis-1 to give away the relief support on Monday.
More than one hundred families in the Dalit settlements have been displaced as a result of the flood water from the Jalad canal.
Kattel, who also leads the Dhurmus-Suntali foundation, had made a similar support for 37 families in Bhangaha of Mahottari on Sunday. He provided a relief package including edibles, medicine and water to 88 families in Dharajbhan tole of Janakpur today. RSS