Dr KC suspends hunger strike on 23rd day; Govt forms high-level committee to acquire pvt medical colleges
August 15, 2017 | 10:22 pm&nbsp&nbsp&nbsp&nbsp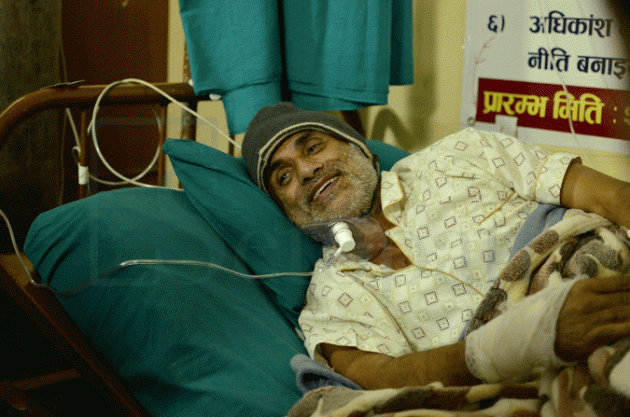 Kathmandu / Aug. 15: Dr Govinda KC, who has been staging indefinite hunger strike for the past 23 days at the Tribhuvan University Teaching Hospital, has suspended his fast on the 23rd day on Tuesday.
He warned that he would stage another hunger strike if the government did not address his demands at the earliest.
The senior orthopaedic surgeon dropped his hunger strike by organising a press conference in the premises of TUTH this evening.
Issuing a statement, Dr KC said that he decided to end his hunger strike in view of the ongoing crisis triggered by floods and landslides in different parts of the nation.
Dr KC said that although the government fulfilled some of his demands, the major task of endorsing Health Profession Education Bill by incorporating recommendations made by a team of experts under Kedar Bhakta Mathema, is yet to be addressed.
"Our fight for endorsing the act will continue and I will promptly sit for another hunger strike if attempts are made to curb or alter the bill for the vested interests," read the statement.
Dr KC said that his crusade for disseminating quality health service in affordable price and decentralisation of health services to all the citizens of the country will continue till those demands are met.
Dr KC also expressed grief over the politicians trying to endorse an act in contrary to his demands and asserted of continuing the struggle till the people's representatives themselves take the responsibility of reforming the country's medical sector.
He began his 11th fast-unto-death on July 24 demanding reforms in medical education sector including implementation of the recommendations made by a team of experts under Kedar Bhakta Mathema, endorsement of the Health Profession Education (HPE) Bill, end of irregularities in medical sector, improve the conditions of hospitals under TU Institute of Medicine.
Govt forms high-level committee to acquire pvt medical colleges
Meanwhile, the government has formed a high-level committee that will recommend the procedures to procure private medical colleges including Manmohan Medical College.
The committee comprised of finance, health and education secretaries will now recommend the government regarding the process of procurement of the medical colleges that have already acquired the letter of intent.