Death toll in Tarai floods reaches 120; Minister Sharma at TIA to inspect supply of relief
August 15, 2017 | 10:22 pm&nbsp&nbsp&nbsp&nbsp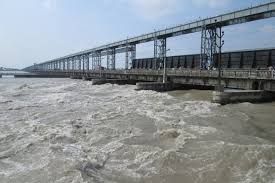 Kathmandu / Aug. 15: The death toll from floods and landslides across the country over the past four days has reached 120 and at least 35 people have been missing, the Ministry of Home Affairs said on Tuesday.
Addressing a meeting of Legislatrue-Parliament on Tuesday afternoon, Home Minister Janardhan Sharma said around 80 percent of the land in flood-affected Tarai districts have been inundated. The floods triggered by torrential rainfall have destroyed thousands of houses and left scores of people injured, he said.
The Home Minister informed that the government has started distributing Rs 200,000 each to the next of kin of those deceased in the disaster and Rs 10,000 each to family whose house has been destroyed.
He said the government is working so as to reach out to all the victims of recent natural disasters by Wednesday.
The ministry has deployed over 26,000 human resources, including the security personnel, for search and rescue operations. Seven choppers of the Nepal Army and six helicopters of private companies along with rubber boats and motor boats have been mobilised in the flood-hit areas.
The Home Ministry further said that relief distribution in the 12 flood-affected districts in Tarai has been begun from Monday.
Minister Sharma at TIA to inspect supply of relief
Meanwhile, Home Minister Janardan Sharma said on Tuesday that the government has been working to take the relief to the flooded and crisis-hit areas of Tarai at the earliest.
Talking to media after inspecting the relief supplies to be transported to the flood-affected regions, Minister Sharma said the government has accorded high priority to Rautahat, Saptari, and Sarlahi districts that are hit hard by the floods. He said that the government has been dispatching tarpaulin, beaten-rice, water, roasted rice and noodles, among other dry foods, to the flood affected regions. From now on, other food items such as rice and lentils would be sent, he added.
Minister Sharma said the relief items would be dispatched by roads in the possible places and by air in areas that not accessible by roads. He said that three helicopters each have been deployed by bases in Janakpur, Rautahat, and Parsa, while two each helicopters are being deployed from Kathmandu and Biratnagar. He informed that separate commands of Home Ministry, chief district officer and regional administrators have been appointed in order to make the relief distribution effective.
Earlier in the day, Home Minister Sharma reached the Tribhuvan International Airport (TIA), Kathmandu, to inspect the supply of relief to the flood-affect regions.
Minister Sharma went to the airport for inspection at 10:30 am this morning following widespread complaints that there was disparity in distribution of relief items in the flood affected districts, said Minister Sharma's secretariat.
Secretary at Home Ministry Lokdarshan Regmi, Spokesperson at Home Ministry and Peace and Chief of Peace and Security Division Secretary Ram Krishna Subedi, Disaster Management Division Chief joint secretary Krishna Raut, Nepal Police Chief Prakash Aryal, Armed Police Force Chief Singha Bahadur Shrestha, representatives of Nepal Army Air Service wing, and representatives of private airlines companies, among others, were present during the visit of Minister Sharma.
Home Minister Sharma had visited the flood affected regions and met the locals on Sunday and Monday.