Big 3 agree on holding provincial, federal polls on same day; PM inquires EC on possibility of both polls in single phase
August 16, 2017 | 9:37 pm&nbsp&nbsp&nbsp&nbsp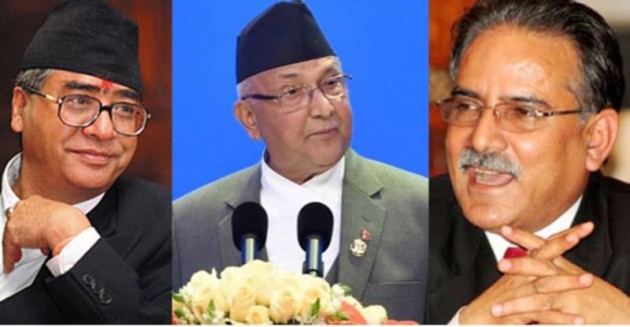 Kathmandu / Aug. 16: Three major political parties have agreed to hold the federal and provincial elections on the same day.
At a meeting held at the Prime Minister's residence, Baluwatar, on Wednesday, the three parties – Nepali Congress, CPN-UML and CPN (Maoist Centre) – have decided to urge the Election Commission for holding election on the same day, shared NC general secretary Dr Sashanka Koirala after the meeting.
He said that the three parties also came to a point to hold further discussion with the Election Commission on Thursday on the technical and legal issues to that end.
UML parliamentary party deputy leader Subas Nembang said that the three parties agreed to conduct elections of both the levels by coming December 1.
Likewise, the major parties have an agreement to finalize the issue of constitution amendment by coming August 20.
Moreover, the three parties also came on the same page to hold the local level elections in the Province-2 in the stipulated date, Nembang informed.
PM inquires EC on possibility of both polls in single phase
Meanwhile, Prime Minister Sher Bahadur Deuba has inquired about the possibility of holding the election to the members of the State Assemblies and the House of Representatives in a single phase.
During his meeting on Wednesday with the Election Commission officials– Chief Election Commissioner Dr Ayodhee Prasad Yadav and Commissioners Narendra Dahal, Ishwari Prasad Poudyal and Sudhir Kumar Saha– at his office, the head of the government expressed his concern over the issue.
In response, he was apprised that the constitutional deadline for the election was approaching nearer and it seemed difficult to conduct the elections in a single phase in the context when required laws to organise the election and a report of the Electoral Constituency Delineation Commission were awaited, as stated by EC Spokesperson Surya Prasad Sharma.
The EC high-level delegation informed the Prime Minister that the House of Representatives' election was possible to conduct in the third week of November and they needed more time for further discussions to determine whether both election in a single round was possible or not.
In response, the Prime Minister said an appropriate decision would be taken regarding the announcement of poll date(s) after a holding a meeting with top leaders of three major political parties today itself.
Deputy Prime Minister and Minister for Federal Affairs and Local Development Bijay Kumar Gachhadar, Chief Secretary Rajendra Kishore Chhetri, OPMCM Secretary Kedar Bahadur Adhikari and EC Secretary Maheshwor Neupane were also present in the meeting. RSS