Rain affects Upper Tamakoshi works, cost expected to rise
August 20, 2017 | 9:41 pm&nbsp&nbsp&nbsp&nbsp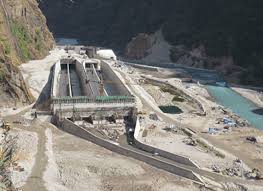 Charikot / Aug. 20: Monsoon rain coupled with other factors have affected the construction works of Upper Tamakoshi Hydropower Project.
Repercussion of rainfall, ongoing upgradation of Lamo Shaghu-Jiri road section and the rise and fall of US Dollars among others have been reasoned to have affected the construction process, while also increasing the cost of the proposed 465-mega watt-hydel by seven billion.
The estimated construction cost of this hydel of national pride- Rs 35.20 billion- is expected to reach Rs 41.64 billion, according to Spokesperson of the Upper Tamakoshi Project, Dr Ganesh Neupane.
More than Rs 34 billion has already been spent on the hydel said Spokesperon Dr Neupane, adding that the electricity generation from the hydel expected to commence by July, 2018 would be further delayed. Only 90.5 per cent of the project works have completed so far, shared Dr Neupane. RSS