Women have opportunity from parliament to local level-President
August 22, 2017 | 10:28 pm&nbsp&nbsp&nbsp&nbsp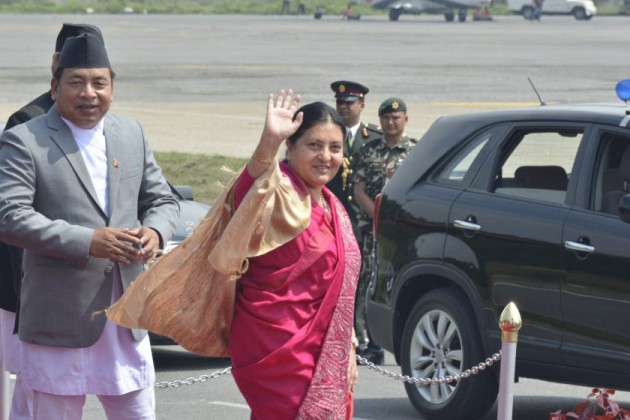 Bhaktapur / Aug. 22: President Bidya Devi Bhandari has said that opportunities have now come before the women from the parliament to local level.
Addressing the closing ceremony of Shrawani fair organized by Doleswor Temple Protection and Development Committee at Suryabinayak municipality-4, Sipadole today, President Bhandari said, "Opportunity has come to women. It is the social opportunity for Nepali women to work as people's representatives from parliament to local level".
Women and men have equal role to run the life and society since time immemorial, she said, adding that, "Name of woman or Goddess Laxmi comes first even in the scriptures. Likewise, women now are in a position to avail of opportunity".
The President stressed on the need of best utilizing the opportunity. The country's development is not a far cry if all sides come together for the sake of nation. ""I think there is no situation to worry for not getting space to work in any place. Society can take momentum if we work with a broad thinking".
President Bhandari also cautioned the temple committee to give proper attention to the fundamental forms and structures while preserving the religious and cultural heritages.
On the occasion, President Bhandari offered prayers at the temple.
Committee senior vice-chairperson Kiran Thapa said that they have raised funds worth Rs 550 million from donors to reconstruct the temple.
The closing programme was presided over by Committee Chairperson Bidur Man Singh Basnet. RSS